For over 40 years, Nemours Biomedical Research has hosted a highly motivated and talented cadre of undergraduate research students during the summer months, and this year we added another success story. From June through August, 32 students had the opportunity to participate in research projects with our scientists and clinicians. The research projects were diverse and ranged from epidemiologic, to basic topics. During the 10-week program, students attended weekly seminars, participated in a student-run journal club, shadowed physicians, visited the Nemours Estate, and most importantly, gained hands-on experience conducting research procedures. Nemours Faculty and Associates mentored students through the research process: formulating research questions and hypotheses, navigating the IRB if appropriate, learning required procedures and skills, following protocols, and analyzing and interpreting data.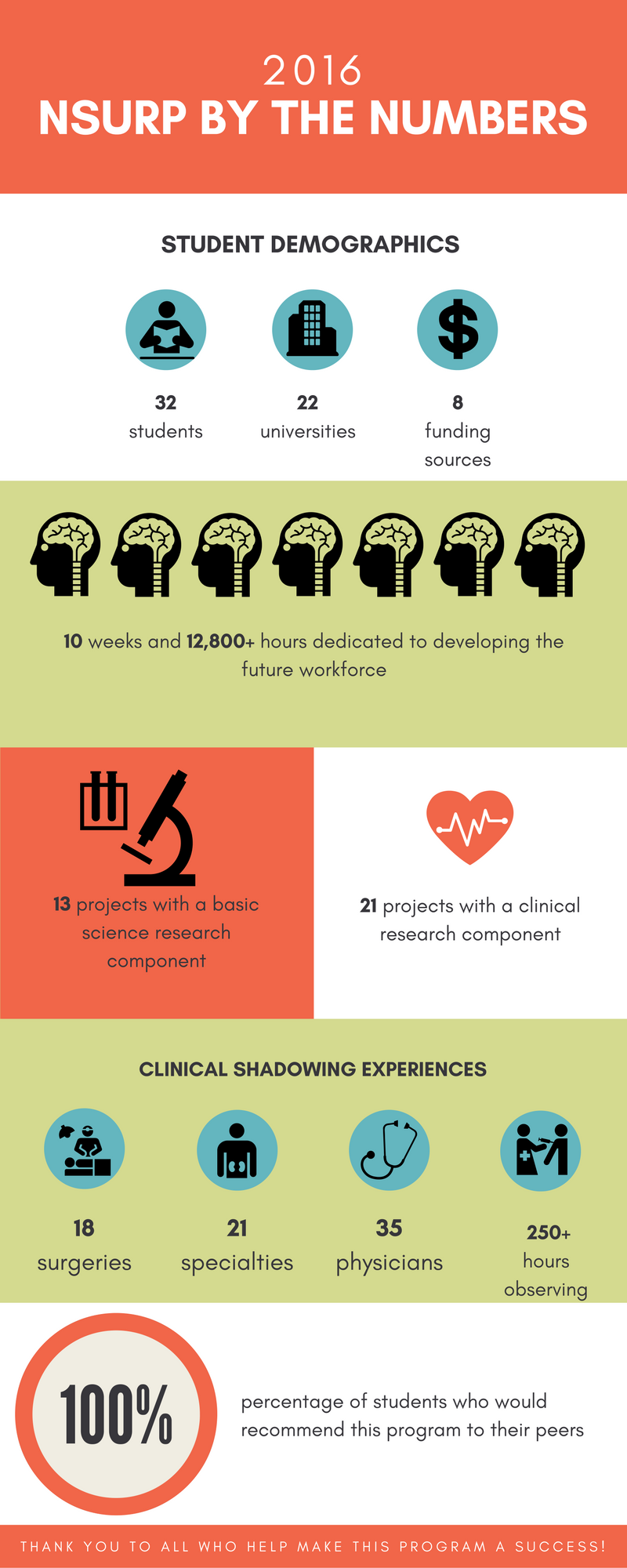 At the end of the program, students had three opportunities to present their research findings. The first was at the newly instated Nemours Summer Undergraduate Research Student Poster Session, held in the Anthony N. Fusco, Sr. Atrium. This event added to the students' experiential learning and showcased to the community the exciting research taking place at Nemours. Next, the students presented their research in the format of an oral presentation during a two day symposium. The symposium was well attended with an engaged and inquisitive audience. Lastly, Nemours students presented their poster again at University of Delaware's Undergraduate Research and Service Celebratory Symposium. Here, students were able to share their experiences and mingle with hundreds of other undergraduate students also doing research over the summer.
Undergraduate research programs based at a hospital like Nemours are a formative experience for students, as they give the students a first- hand look at what daily life is like as a clinician and researcher, and provides insights to what kind of graduate education to pursue. This exposure is different from what students could get within a classroom setting, and affords students the opportunity to deepen and contextualize their knowledge about biomedical sciences. Many times, students leave the program feeling even more passionate about healthcare than when they started. Generating excitement around the biomedical sciences for today's youth is critical in advancing healthcare outcomes. The more that research contributions are made in the biomedical sciences, the better the health outcomes will be in the future, both in the short and long terms.
Congratulations to all of the students for their dedication, enthusiasm, and hard work this summer. We wish you well in all of your future endeavors! A heartfelt thank-you is extended to all Mentors and Associates who trained, coached, and motivated these students to produce such high-quality work.