For children who are navigating serious medical concerns, staying on top of schoolwork can be challenging. That's why the Hospital School Program at Nemours Children's Hospital, FL, is dedicated to promoting educational success for children in our care. Our hospital-based teacher provides individualized instruction and school liaison services to support patients' educational needs during hospitalization and upon return to school.
The Hospital School Program is enhanced by our teacher internship program, called PedsAcademy®, for students enrolled at the University of Central Florida (UCF). PedsAcademy, developed in partnership between Nemours Children's Health and UCF's School of Teacher Education, is designed to better prepare future educators for teaching children with chronic and complex medical needs. Teacher interns from UCF provide individualized instruction to patients (PK-12) while receiving specialized training about how to support students affected by chronic health conditions. The PedsAcademy program enables Nemours to serve an increased number of patients, including their siblings, and provide a greater variety and depth of instructional and enrichment services than one hospital-based teacher could provide on their own.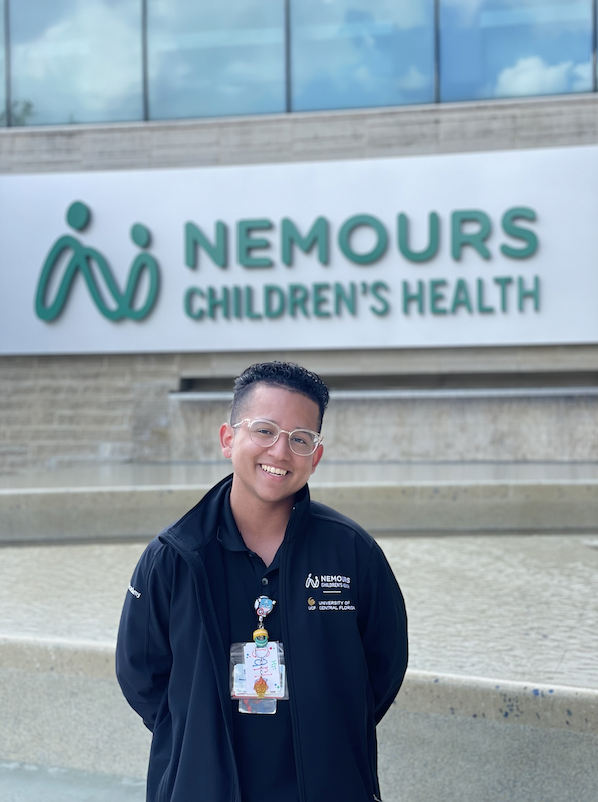 One PedsAcademy intern, Carlos Aleman, knew that this unique internship placement was the right fit for him. Diagnosed with acute lymphoblastic leukemia at age 4, Carlos knows firsthand the challenges that children with cancer and other chronic conditions face.
"It has been a dream of mine to be a breath of joy for patients and families that are experiencing the same losses and changes in their life that I had growing up," says Carlos. Carlos is now an aspiring educator and in his final year of UCF's Early Childhood Development and Education program.
During his PedsAcademy internship, Carlos provided instruction to patients across all inpatient units. Many patients look forward to working with "Mr. Carlos", including Samai (grade 2). Samai, like Carlos, was diagnosed with leukemia during early childhood. Unable to attend traditional school due to her medical condition, Samai is grateful to have access to educational support while undergoing cancer treatment at Nemours Children's Hospital. The school program helps me to "learn, have fun, and continue on with school even though I can't go back to school yet," says Samai.
Samai's mother feels that participation in the school program has positively impacted Samai's time at the hospital.
"When Samai works with the school program, she feels like she's back in a regular school classroom and she really misses being back with her teacher and friends back at home." Samai's mother also agrees that more future teachers should have the opportunity to participate in a hospital-based internship program, like PedsAcademy. "It's important that teachers understand different medical conditions so they can provide appropriate accommodations that could help children like Samai who struggle with keeping up or participating in school activities due to their diagnosis."
As a result of his internship experience, Carlos gained confidence in his teaching abilities and feels better prepared as an educator. He has learned how to design accessible instruction and eliminate barriers to learning for children with medical needs.
"All children deserve to have access to high-quality educational opportunities, no matter their diagnosis," says Carlos.
Hospital-based internship experiences for future teachers, like PedsAcademy, are the key to advancing awareness and improving educational outcomes for children with chronic and complex medical conditions. This model also helps Nemours to better support patients during their hospitalizations and transitions back into the classroom. Nemours released a toolkit today for hospitals or universities interested in establishing a teacher internship program based on the PedsAcademy® model. To view the toolkit, click here.