During the first trimester of her pregnancy, Christine Miller learned her son, Logan, was diagnosed with congenital cytomegalovirus infection (CCMV). Christine was told that her son was dying in utero and would likely not survive the birth.
Since the CCMV diagnosis, the Miller family has been in constant contact with the infectious disease department at Nemours Children's Health. At 32 weeks pregnant, Christine underwent an emergency C-section and Logan was born, weighing just 3 pounds. Immediately following birth, multiple calcifications were discovered on Logan's brain. At this time, Logan was also diagnosed with Cerebral Palsy.
Fast forward 18 years, Logan and the Miller family still have a very close relationship with Nemours. In 2021, Logan had his first appointment with Dr. Shrader (Dr. Dabney followed Logan since birth). At first, Dr. Shrader was very pleased with Logan's movement and progress from his previous hip surgeries. "But after talking with him about how active Logan wanted to be, he listened to our concerns about working on Logan's crouch," said Christine. Dr. Shrader informed the Miller's that a double knee osteotomy could be a solution. However, it was much more difficult to recover from than his prior hip surgery and he wasn't sure that the outcome would improve Logan's condition.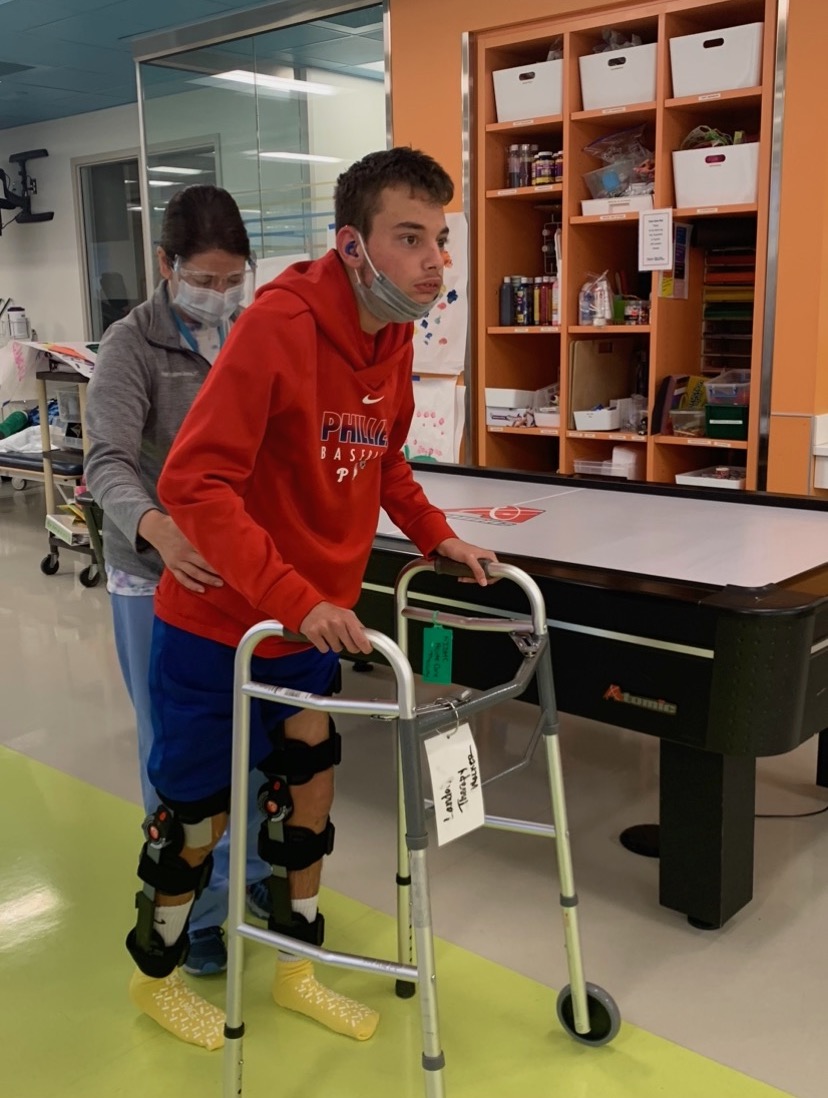 "Dr. Shrader listened to everything that I had to say about Logan's drive, his motivation, and that he would be the hardest worker that he would ever see. After an in-depth conversation weighing out the pros and cons, Dr. Shrader agreed to do the surgery. I was very impressed that he listened to my concerns and was willing to go ahead with surgery. Not many doctors would be willing to do that. The entire experience was an outstanding experience for Logan and our family," says Christine.
Logan was admitted into the hospital in April 2022 to receive the double knee osteotomy. After a week in the hospital, Logan went home to recover for 2 weeks, then return for extensive physical therapy for 4 months. "The nurses on 3E are nothing but amazing. Not only did they care for Logan, but they also made sure he was happy and busy every day. They would take the time to talk with him throughout the day or watch a clip of one of his favorite YouTube videos that he found. He was always comfortable, both receiving the correct amount of pain meds, but also making sure he had fresh blankets or an extra pillow if he asked. They made sure I had what I needed, reminding me to get something to eat or take a walk, just to get away for a minute or two to relax," says Christine.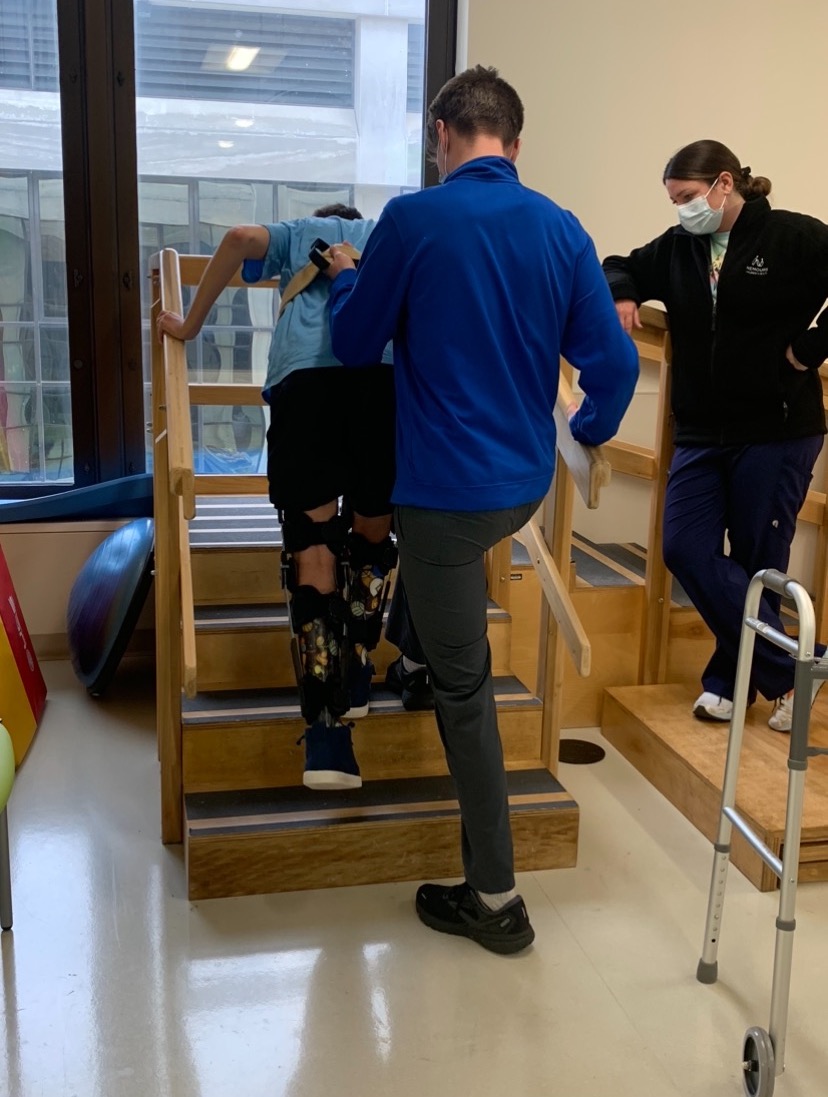 "The Child Life program is nothing but AMAZING at Nemours. They would check on Logan daily, seeing if they could get anything for him to keep busy. Four months to be in the hospital is a long time to keep busy. He would ask for specific games and they would somehow find it for him. It was perfect. All the therapists were absolutely PHENOMENAL with Logan. They knew how to get Logan motivated to do what he needed to do to get stronger.  When I had a question, they would take the time immediately to answer the questions I had. They listened to my concerns and helped me feel comfortable about the whole process. I was also impressed with how involved families can be in the therapy process. I attended every session and helped when needed. The entire process was nothing but perfect for both Logan and myself."
"Nemours has now set up all the outside therapy services that Logan would need closer to home," says Christine. "I am still able to email the doctors and therapists whenever I have questions. Logan went back to school (he attends the 18–22-year-old life skills program) and began an outside PT service close to home. He is now walking without the walker and back to playing basketball for the Special Olympics of Delaware. Logan is standing so straight and tall and getting stronger every day. He is still recovering, but I couldn't be happier with the outcome of the surgery, the entire process, and the recovery."
Logan continues to participate in physical therapy. He is still working hard at home, doing all his exercises, taking walks, participating in sports, and staying active. The Millers are a very active family. Logan and his two brothers are all involved in multiple sports. If Logan is not playing flag football, unified basketball, swimming, or running track, he is "managing" his brother's teams and being an active participant on the sidelines. Logan is also the manager of the unified basketball team for Appo High School and sits in the dugout at all Cabrini University Baseball games, cheering on his brother and teammates. His "dream jobs" are working at the Wilmington Blue Rocks stadium, doing the scoreboard, as well as working at a local university to help their sports program in any capacity.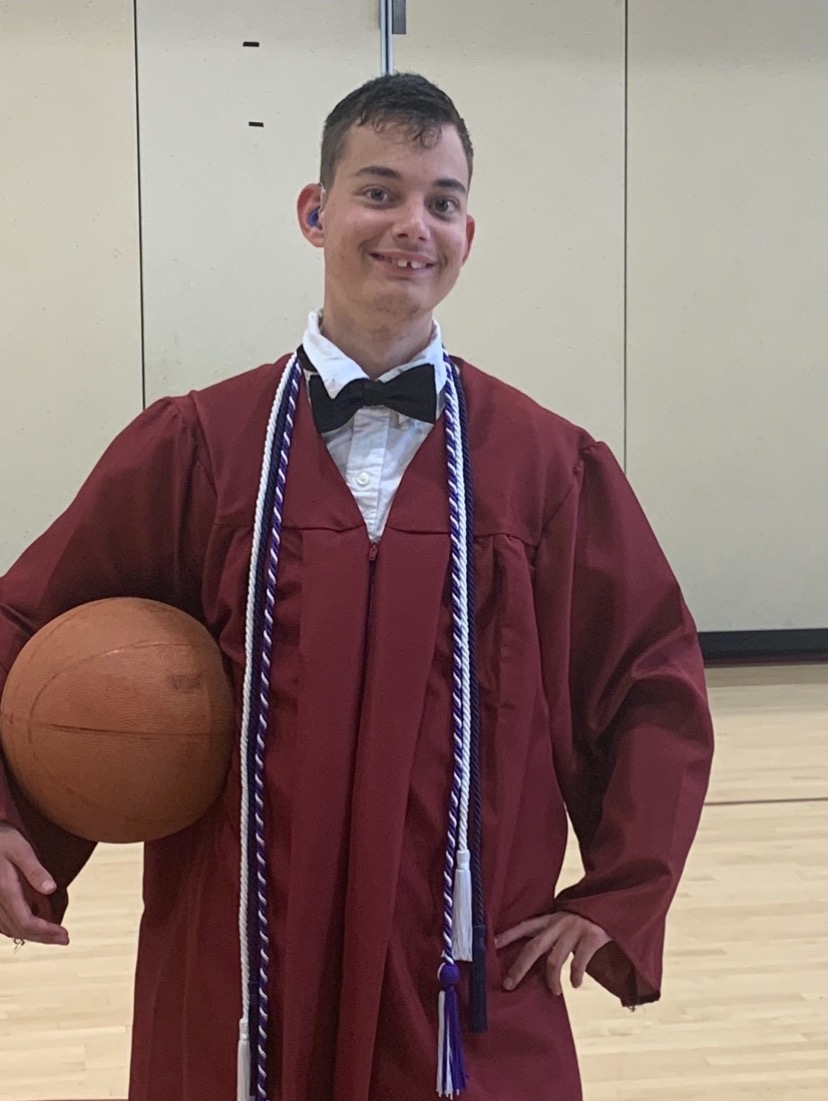 "I am extremely optimistic that this surgery has improved my son's quality of life. He will be able to attempt to keep up with his brothers and help with all the activities that both he and them are a part of," says Christine. Christine hopes to encourage other parents in similar situations to voice their opinions. "You know your child best," she says. "Be an active participant in all the hospital rounds and therapy sessions. Listen to your child, they know their body best and therapy is hard. Let them be a part of the decision process if they are able. Remember some days are harder than others, don't give up because you had a bad day."