Critical Care Flight Nurse Timothy McCormick grew up in a family of medical professionals. In fact, his mother is a critical care nurse. His parents instilled in him the values of faith, community, education, and helping others.
"I decided early on in my education to pursue a career in nursing and gravitated to critical care medicine," says Timothy. "Its challenging environment and unique clinical cases provide the immense reward of aiding in the recovery of critically ill patients. I consider my profession as a registered nurse a calling."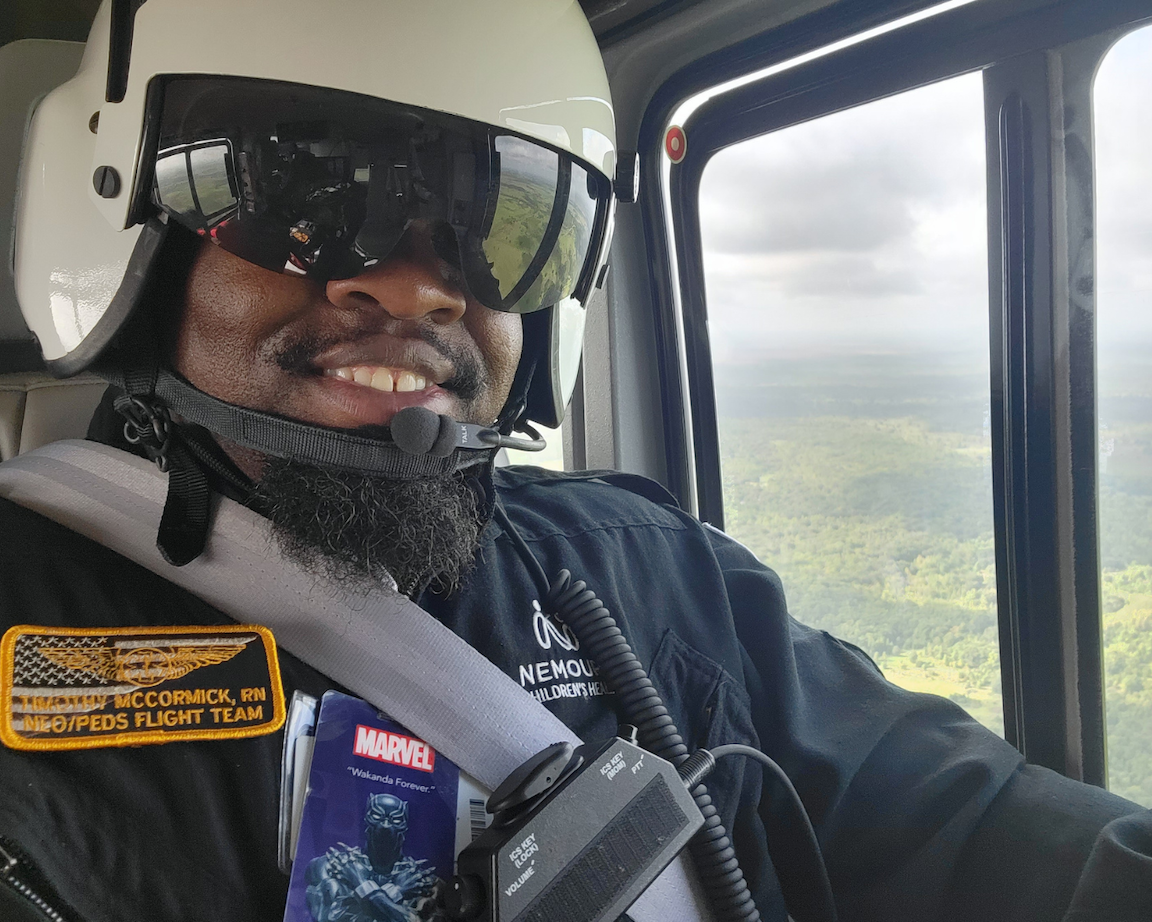 Timothy began his nursing career in the Adult Critical Care setting. During this time, he worked both inpatient and in interfacility EMS as a Critical Care Transport RN. He cared for critically ill adults, obstetric patients, and pediatrics for the first 11 years of his career.
Eventually, Timothy made his way to Nemours Children's Hospital, Florida while seeking an opportunity to expand his critical care experience into Pediatric Critical Care. "After working in PICU, with cross training in the NICU and CICU, I was asked to join the Critical Care Transport Team at Nemours Children's Hospital," says Timothy. "A request I answered yes to and have enjoyed ever since!"
"At Nemours, I have discovered an institution with values that align with my own personal values. I believe that here at Nemours Children's Hospital, wherever we serve, our contributions are meaningful. Whether through direct clinical interventions, education, or legislation, the goal is clear: to restore and improve children's health through quality care, affecting the health of generations of children. We each have the opportunity to impact a child's life, making an indelible mark on their health to last a lifetime."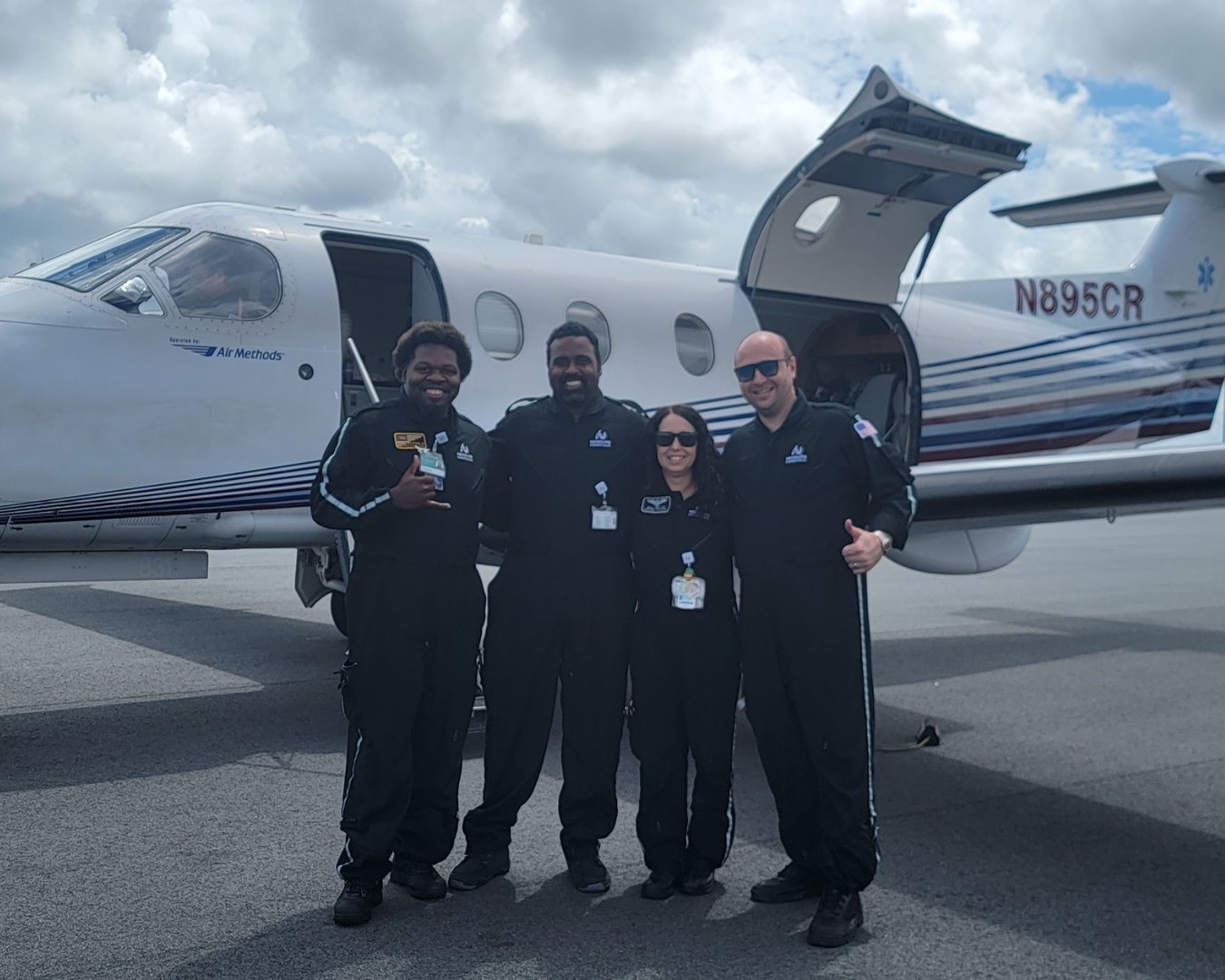 "I also have the esteemed privilege of serving alongside many experienced and decorated transport clinicians at Nemours who value our patients and the community we serve," says Timothy. "The Critical Care Transport Team strives to practice at the highest-level, providing quality care to our patients. We endeavor to impact the lives of patients and families during a pivotal time in their healthcare experience. No parent expects to have their baby/child experience a traumatic injury or receive a life-altering diagnosis. But when it does happen, and the call for advanced clinical care is made, the NCH Critical Care Transport Services is there to respond."
"We comfort, reassure, stabilize, and oversee the safe transfer and arrival of our patients from bedside to bedside. We respond to emergency departments, clinics, newborn nurseries, or wherever our patients need us. We bring critical therapies and medications to the patient to begin or continue stabilization and support transfer to definitive care. We help bridge the gap between the referring facility, Nemours Children's Hospital, and the clinical care our patients so desperately need. My team respects and highly regards the trust placed in our capable hands and confronts each challenge with grace and compassion. We are supported by a strong leadership team of physicians, directors, and executive decision-makers who believe in the mission, our abilities, and our call to serve the needs of children across the globe."
"Timothy soars with unwavering dedication as a Critical Care Transport Nurse," says team leader, Shawn Rolquin. "He is a beacon of excellence in the Critical Care community. With each ground, rotor, or fixed wing flight, he not only serves his patients' but also cares for their family. His profound impact on the community is a testament to his unparalleled skill, but it is the upmost respect he shows for every life he touches, that truly makes him a phenomenal force of healing and compassion."
Since joining Nemours, Timothy has been recognized via The DAISY Awardâ for Extraordinary Nurses twice. Always seeking to elevate his expertise, Timothy is currently working to expand his clinical experience by attending deliveries at partner hospitals, as well as pursuing certification as a Neonatal Resuscitation Program Instructor. He also provides support, along with fellow Critical Care Transport team members, in educating local emergency departments on the key elements of stabilizing newborns and pediatric patients – a joint effort between the Neonatology department, partner hospitals, and the Nemours Children's Hospital Simulation Department.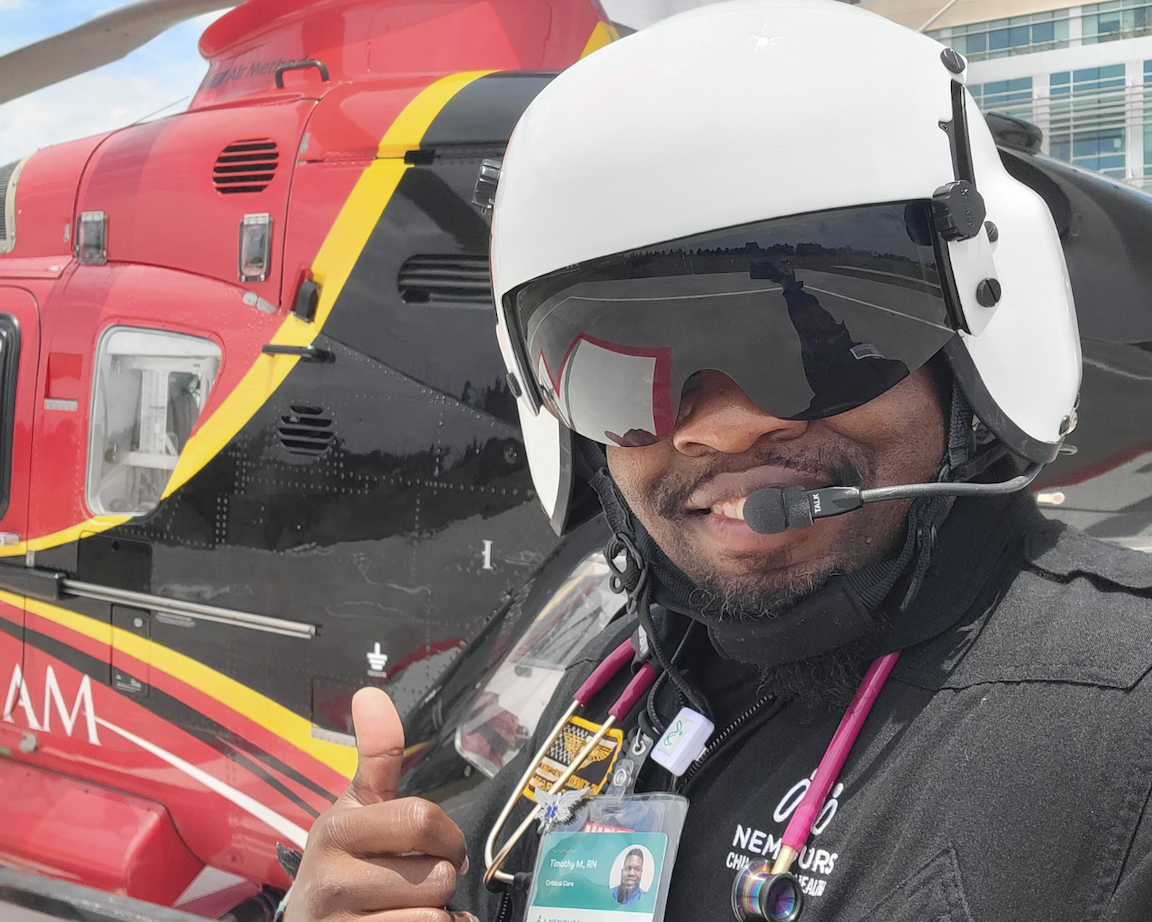 Timothy cherishes the opportunity to care for patients and their families, while building trusting relationships, celebrating their victories, and comforting them when the journey is arduous. "As a Critical Care Flight Nurse, it is an honor to participate in the healing process, rendering critical interventions, holding a hand, and facilitating our patients' access to life-saving care," he says. "I wake up each day hoping to make an impact in life, intervene in tragedy, bring calm to chaos, ease pain, dry tears, abate anxiety, or share a reassuring word/smile. I strive to fulfill this influential work—this vocation—because it's my calling."