The Nemours Children's Health National Office of Policy and Prevention hosted a virtual convening June 6-7 that brought together more than 100 health and early childhood professionals from 36 states. The event was part of the Healthy Kids, Healthy Future Technical Assistance Program, led by Nemours Children's and funded by the Centers for Disease Control and Prevention (CDC).
The five-year project (2018 – 2023) supports states to improve nutrition and physical activity practices in childcare programs and systems. The goal of the two-day convening was to share national and state experiences with key strategies to create healthier childcare settings, specifically outdoor learning environments and increasing participation in the Child and Adult Care Food Program (CACFP).
Day 1 featured presenters from the Natural Learning Initiative (NLI) at NC State University, and state leaders from South Carolina and Wisconsin. Nilda Cosco, NLI, shared recent research findings on how gardening promotes physical activity and fruit and vegetable acceptance among young children that attend early care and education (ECE) settings.
"The intervention group achieved six more minutes of moderate to vigorous physical activity a day, and 14 minutes less sedentary time than the control group," said Cosco.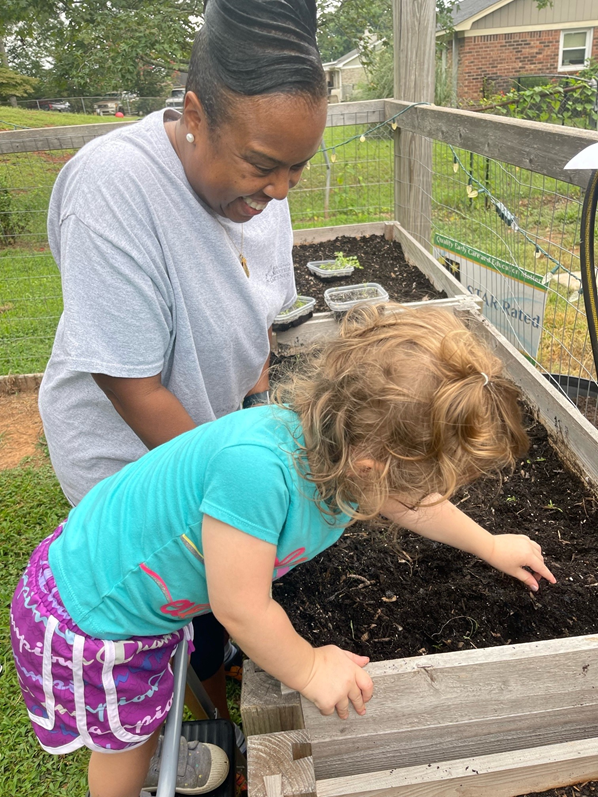 The impact was strongest for children around 3 years of age when compared to their older peers up to 5 years old. Robin Moore, with NLI, offered guidance for how ECE programs can plan, implement, and maintain gardens sharing several high-quality resources to support ECE programs in enhancing their outdoor spaces.
State leaders from South Carolina and Wisconsin also detailed their journeys in advancing outdoor learning environments at both the state systems level and within childcare facilities. Presenters emphasized the importance of building strong relationships with partners to develop common goals.
Day 2 focused on a data-driven approach to promote CACFP and increase participation using GIS mapping technology. CACFP is an important federal program that provides meal reimbursements to eligible ECE programs. Through a partnership with Child Care Aware® of America, Nemours has supported the development of 20 CACFP GIS maps for 16 states over the last five years and will finalize an additional maps by the end of the summer. Child Care Aware staff Alex Cooper, Jasmin Springfield, and Diane Girouard shared the impact the CACFP GIS maps have had across all states and shared "Strategies for Change" that states have used to create greater nutrition security for young children.
State leaders in Pennsylvania and Vermont presented examples of how they have used the CACFP GIS Maps to strengthen partnerships with other state organizations and agencies and to achieve lasting state systems change.
Convening participants included staff from federal agencies, national organizations, state departments of health, childcare resource and referral agencies, and other early childhood organizations. Initial feedback from the convening was positive, with several participants expressing appreciation to Nemours and the CDC for supporting this work over the years.
To learn more about the virtual convening, please visit https://healthykidshealthyfuture.org/hkhftapvirtualconvening/.