As back to school mode goes into full swing, purchasing school meals is a great way to help you save time and money. It's also a great way for kids to get the nutrients they need. According to the National School Breakfast and Lunch Program website, about 60 percent of schoolchildren in the U.S. receive school-provided meals each day through these programs. (1) With the majority of kids buying school meals, let's talk more about what goes into them followed by specific tips and tricks you can use to promote healthy eating at school.
About School Meals
School meals have to meet specific nutritional guidelines. Both breakfast and lunch are required to have fruits and/or vegetables and one cup of fat-free or 1% milk. Half of grains provided must be whole grains, and there are limits on certain nutrients, such as sodium (salt). Lunches must include a protein source (called meat or meat alternate). (2) Many schools are coming up with creative ways to promote healthy eating: hummus bar, salad bar, adding fruits and veggies to kid friendly meals and snacks, etc. There are different federal programs that schools participate in to provide kids with healthy meals and snacks: the National School Breakfast Program and National School Lunch Program are the most established, but there are several others. These include the After School Snack Program, Fresh Fruits and Vegetable Program, Special Milk Program, and more. Look online with your child or ask a school administrator to see which of these additional programs are offered at their school.
Follow Healthy Eating Guidelines
To get the most out of school meals, use MyPlate when choosing what to eat and drink in the lunch line.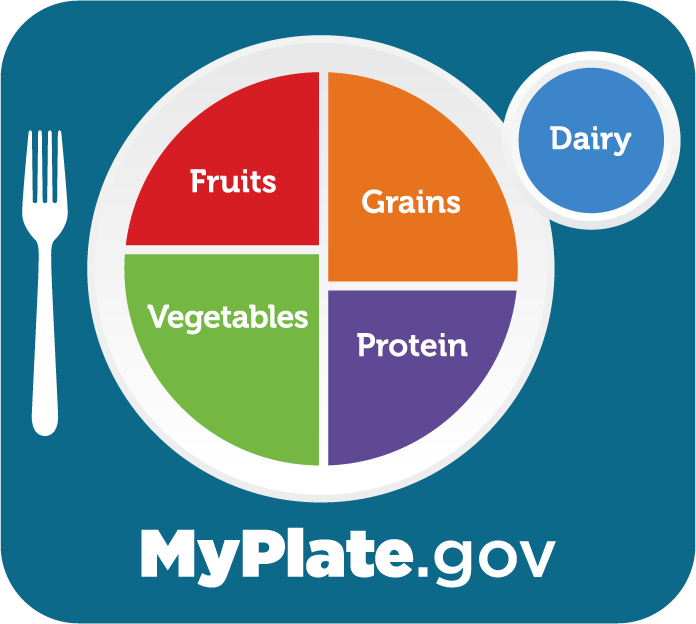 MyPlate reminds us to:
fill half of our plate with fruits and vegetables
make ½ of our grains whole grains
vary sources of protein: meats, poultry, cheese, eggs, beans, soy, seafood
choose low sugar/calorie beverages whenever possible, such as water and low-fat milk
School meal requirements match up well with these recommendations- they are already providing fruits, vegetables, and milk; varying protein sources; and ensuring that half of the grains provided are whole grains. MyPlate is often posted in school hallways and cafeterias, so your child may already be familiar with it. Talking through MyPlate with kids can help them understand the importance of balanced eating, and how they foods they eat affect their health.
Plan ahead
Schools typically provide breakfast, lunch, and snack menu options for the month. Looking at a menu with your child for the week ahead can help them decide what they want to get in advance. Talk to your child about which options they like and which are healthy- nutrition is all about balancing what we like to eat with what provides us with nutrients.
**Be sure to include conversations about snacks. Typically, snacks have to be bought separately from meals, so giving your child a snack allowance could be helpful.
Try new foods at home
Healthy meals start at home. If kids are given the opportunity to try new foods at home (and see you eat them too!), they may be more likely to put these items on their tray at school.
Apply for free or reduced-price school meals…
if your child's school doesn't offer free or reduced prices meals for everyone in school.
Students usually receive a form in the first few days of school that you can fill out with household income information- make sure this gets submitted on time.
Note that schools have a discrete way of providing free or reduced-price meals so that your child won't be singled out.
Talking with kids about school nutrition can ensure that they are getting the most out of the foods they choose. After all, breakfast and lunch add up to be 2/3 of the meals they eat each day!
Sources
For more info, please visit: Myplate.gov