My name is Alex Gaudlap. Also known as Raymond's mom.
Our journey with Nemours Children's Health started in the fall of 2017 when we relocated back to New Jersey from Camp Lejeune, North Carolina due to Raymond not hitting developmental milestones appropriately. The doctors down South assured me Raymond was fine, but my motherly instinct told me he wasn't. From the moment we stepped foot into Nemours Children's, I felt like our concerns were listened to.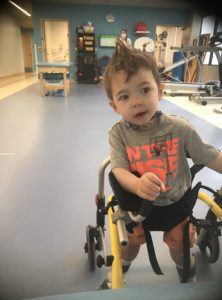 Raymond's first appointment at Nemours was with a neurologist in the Deptford location. Since we were new patients and basically starting from the beginning with tests, she ordered a routine EEG. We never would have thought that his first test would give us answers, but it did. Raymond was diagnosed with a rare form of epilepsy; that gave us some indication to why he had a global developmental delay.
After receiving the epilepsy diagnosis, we continued to receive care at the Nemours clinic in Voorhees, now Cherry Hill, which led to his diagnosis of cerebral palsy on his second birthday in June 2018.
Throughout 2019, we continued to work on Raymond's strength training with the physical therapy team.
During 2020—a year we could have regressed so much due to pandemic restrictions—Raymond hit huge milestones. He began cruising along walls and furniture, gaining the confidence he needed to walk on his own. In February 2020, Raymond received his own gait trainer and was on his way to walking.
In June 2020, after Nemours submitted a reanalysis of his original 2017 genetic panel, we found out Raymond had a variant on the VAMP2 gene. He was one of 10 children diagnosed with this variant at the time, and still to this day, the diagnosis is considered ultra-rare. Since 2020, there are 21 cases worldwide. You can visit www.vamp2.com, a website I created to spread awareness of this rare disease, advocate for the cause, help drive research in the disorder, and ultimately look for therapeutic interventions.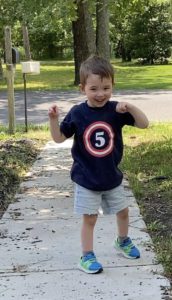 In June 2021, on Raymond's 5th birthday, he took his first independent steps. He has been non-stop since.
The year 2022 began with Raymond becoming the Nemours Children's Delaware and New Jersey Patient Ambassador for the new Grateful Patient Philanthropy Program. In August, Raymond received approval from his neurologist to be taken off seizure medication, which he had been on for the last five years. In September, Raymond received his augmentative communication device and started outpatient speech therapy sessions at Nemours, Deptford, where he has done amazingly well. He is now isolating his pointer finger; I could have thrown a party!
As of January 2023, our journey with Nemours continues with Dr. Jain. We are greeted by name every time we walk in, and I always joke that we need a mini apartment on-site. I am beyond grateful every day to call myself part of the Nemours family. Their care is truly like no other, and I believe a huge part of Raymond's success has been because of the excellent care that Nemours provides.
As a thank you to Nemours Cherry Hill and Deptford's Therapy Services, our family hosts the Annual Raging Raymond Fluke Tournament & Basket Auction. This event takes place every June, and the money is given to Nemours on Raymond's birthday, June 20. Our goal is to make sure that Nemours Cherry Hill and Deptford have what they need to continue to provide families with excellent care.
You can find us on Facebook at www.facebook.com/ragingraymondtournaments. We love to see new faces joining our Raging Raymond Family.
As a rare disease mom, I take my job very seriously and strive to make a difference in the community by sharing our story.