Nine months ago, Annie and Ben Grayshan got the news no parents ever want to hear, "Your child has cancer."
Their son Ethan was 7 years old when recurring vomiting led to a visit with his pediatrician in April 2022. His doctor suspected a stomach bug. The vomiting persisted and Ethan was sent for allergy testing and then to a GI specialist. After starting antibiotics for a potential parasite, Ethan began to experience fatigue and headaches, common side effects of the antibiotics.
But after a few days with no improvement, his parents took him to an ER where a CT scan showed a mass on Ethan's brain. The Grayshans were then airlifted to the ER at Wolfson Children's Hospital in Jacksonville. Within 48 hours he had undergone two brain surgeries. One to relieve the hydrocephalus, which had been causing his symptoms, and another to remove the tumor.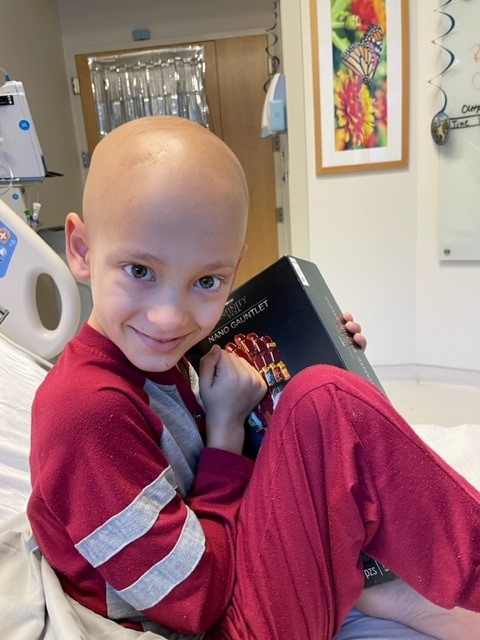 A diagnosis of medulloblastoma soon followed, as did a treatment plan of proton radiation, and chemotherapy. Since diagnosis, Ethan's treatment has had two goals. First, and foremost, remove the cancer. Second, make sure it never comes back.
The day of Ethan's tumor removal surgery, his parents met Dr. Darren Klawinski. "We knew after our first meeting that he would be Ethan's oncologist and would see him through this entire journey. He was knowledgeable and kind and we are confident in the care he provided for our son," says Annie.
As unlucky as his cancer diagnosis was his parents were thankful that the cancer had not spread, and that his doctors were able to completely remove the tumor. Chemo and radiation were taxing, but Annie says he is a tough kid and hasn't even had any unscheduled hospital stays.
"All the nurses at Nemours have been wonderful," says Annie. "Ethan isn't exactly a fan of having his port accessed every week and it can be a bit of a wrestling match. They have shown incredible patience and kindness and discovered his love of lollipops, which has made the whole process much easier. Child Life Specialist Ms. Joli (Craver) was always there with a smile on her face and an activity to keep Ethan distracted and entertained."
After surgery to remove the tumor, Ethan suffered from posterior fossa syndrome leaving him unable to speak or swallow, unable to move his head and neck, and with paralysis on his left side.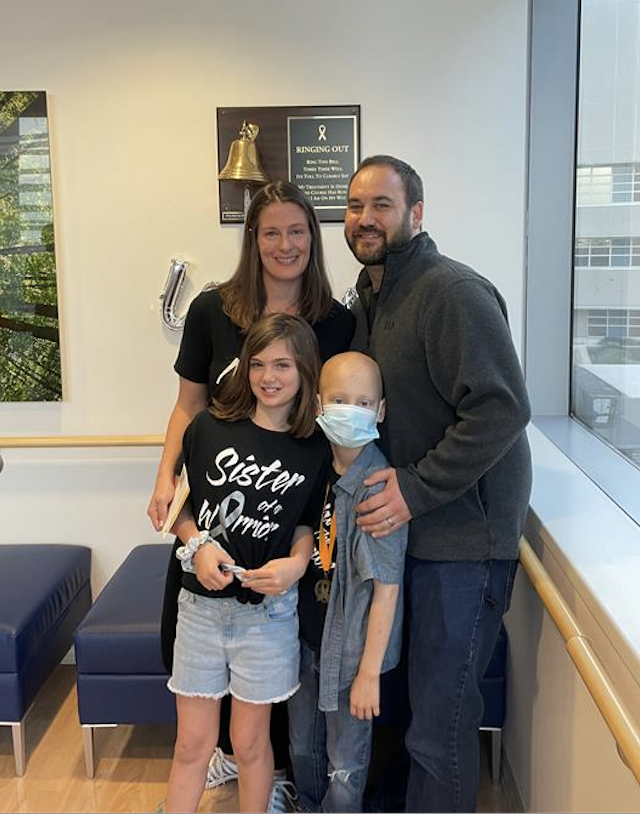 Balance and speech are the biggest challenges due to the location of the tumor. Ethan did a stint of inpatient rehab at Nemours Children's Hospital, Orlando and has been in speech therapy, occupational therapy, and physical therapy at Brooks Rehab since coming home.
"We know the healing process is going to take time," says Annie. "Ethan will continue therapies (PT, OT) to help him get stronger. And we've found that just being a kid and playing with friends can be the best form of therapy."
Now he can eat, walk, and talk and his parents continue to be hopeful about his recovery. "Most importantly, none of this has taken anything away from who he is. He's doing great in school, loves hugs, and loves to drop one-liners on his dad and sister," says Annie.
Ethan finished his final inpatient chemo in February 2023 and rang the end-of-treatment bell surrounded by friends and family. Through this experience, the Grayshans have learned that every child is different, and you can't compare their journeys.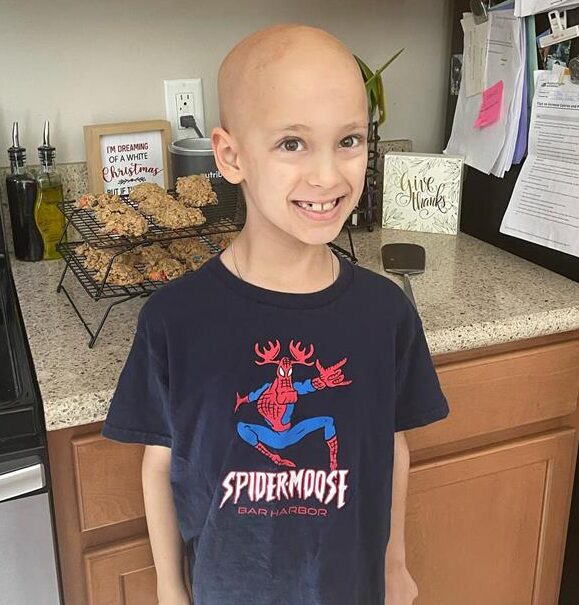 "What one child struggles with another might not and vice versa," says Annie. "We try take it one day at a time and not let the past or the future possibilities weigh us down. When I get discouraged or Ethan has a bad day, I look back and remind myself how far he has come. I'm always amazed at how strong and resilient our kids are."
A fencer, Ethan has been working on his stamina by walking around the block with his parents, often with a play sword in hand, and aims to return to fencing lessons soon. Their family is excited to see how Ethan continues to recover now that his treatment is complete. "He's a real-life superhero," Annie says.