You'd never know it today, but 10-year-old Axel was born with an absent right ear, which was noticed at birth. His condition is defined as microtia, and refers to a missing or an abnormal ear, and can involve one or both ears. Newborn hearing tests revealed that, besides missing his outer ear, Axel did not have a normal hearing ability on the right side.
Fortunately, Axel didn't have any other medical conditions that required early treatment. As he grew up, it became increasingly hard to deal with the appearance of having a missing ear.
"Sometimes kids at school would bully him for not having a full ear," says his mother, Juana. "It made him feel like he wasn't a normal kid."
In addition to being seen by Nemours Children's Audiology and Otolaryngology teams, Axel was referred to Plastic Surgery to discuss options for treating his ear difference. A staged ear reconstruction was recommended by Dr. Angelo Leto Barone.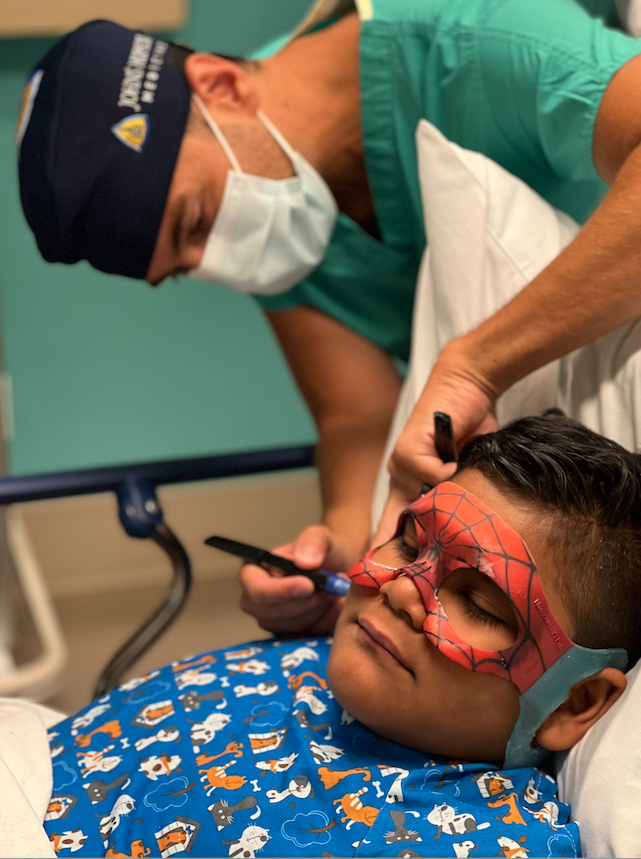 "The first time Axel walked into our clinic, the sadness arising from the years of bullying and feeling of not belonging were palpable. He's a very sweet and sensitive young man, and I could sense how important this was for him, so helping him feel better became the only thing that mattered. We needed to help," says Dr. Angelo Leto Barone.
When using the patient's own cartilage taken from the chest, Plastic Surgeons sculpt the rib cartilage and place the carved ear framework under a skin pocket to let it gain blood supply. Around six months later, the ear is elevated from the skull to give it projection with a second small procedure. This allows children like Axel to wear glasses, masks and, most importantly, have a normal social life.
Dr. Leto Barone has invented and patented a device that assists him to quickly and reproducibly shape the patient's cartilage and create an ear framework he then used during his surgeries.
After learning more about the procedure, Axel and his mother decided to move forward. Axel had the reconstructive surgery in September 2022.
"I was very happy for Axel, but also nervous and scared for my son to be in surgery," says Juana. "I put my trust in God and asked him to send us a provider that will help make us feel comfortable. Dr. Leto Barone makes Axel feel comfortable and is very caring with him. He is an expert, and we are very happy to have found him."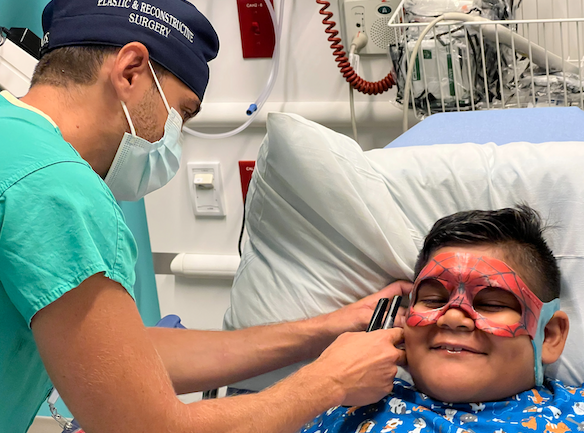 For Axel, the next step is to undergo the second stage of the procedure to gain ear projection, and he will eventually become a candidate for a hearing restorative operation with Otolaryngology. "As was Axel's case, the microtia repair is an important and special milestone. Our Otolaryngology and Audiology teams will continue to work in a complimentary manner to support Axel's goal to achieve optimal hearing," says Dr. Cedric Pritchett, interim chief of Pediatric Otolaryngology Head & Neck Surgery.
Axel will be seeing our Otolaryngology and Audiology teams, along with Dr. Leto Barone as part of the new Nemours Children's Ear, Hearing and Communication Center set to launch in January 2023. This new comprehensive interdisciplinary center will provide treatment and state of the art care for children with external and internal ear disorders and plans to set the standard for microtia and atresia care.
In the meantime, Axel is thriving. "After having my surgery, sometimes I no longer feel like I have this and feel like a normal kid," says Axel.
Although Axel still has a long road ahead of him, he has future plans of becoming a zookeeper, soccer player, or a veterinarian.