Nemours Children's Health is proud to participate in the 2022 Children's Hospital Association's (CHA) Speak Now for Kids' Family Advocacy Day. This annual event brings together pediatric patients, their families and the children's hospitals that care for them to speak with our Congressional leaders about the unique needs of children and how children's hospitals play a critical role in providing coordinated, specialized care for our youngest generation. This year, we are excited to bring two young champions and their families to meet virtually with our Delaware and Florida Congressional delegation members to share their inspiring stories.
David Smith*, 12 years old, Wilmington DE
David started exhibiting challenging behavior at age 5. These behavioral issues became more intense over time. While he was excelling academically, he experienced strong emotional outbursts at school, which led to many trips to the principal's office. In the beginning, school administrators believed he would outgrow this behavior.
Meanwhile, David's family searched all over Delaware for a pediatric mental health provider. Though David has private insurance, it was still difficult to find an in-network provider. Once they found a pediatric psychiatrist at Nemours Children's Hospital, Delaware (NCH, DE), there was a long waiting list due to provider shortages and high demand for pediatric behavioral health care. Soon after being seen at NCH, DE, David was diagnosed with anxiety and attention deficit hyperactivity disorder. Since then, his psychiatrist has helped him to treat and manage his condition. Today, David is 12 years old and doing much better with managing his anxiety and expressing his emotions. David's parents are very proud of his hard work and progress.
Sebastian Davila – 7 years, Orlando, FL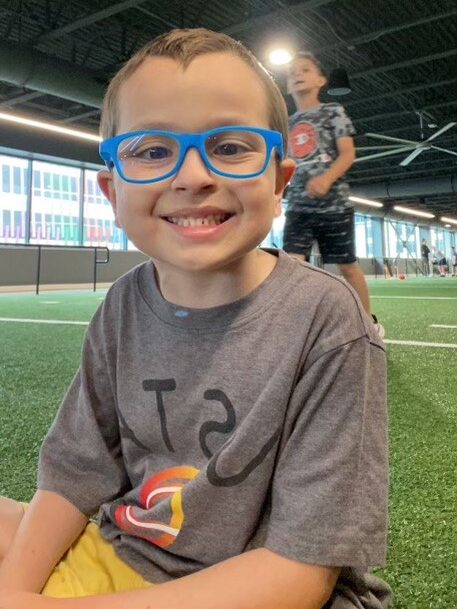 In 2020, Sebastian Davila's parents noticed that his eyes were deviating unusually, so they took him to the closest emergency department. It was there that Sebastian, at age 5, was diagnosed with a brain tumor called a medulloblastoma. Sebastian received care immediately at Nemours Children's Hospital, Florida (NCH, FL). NCH, FL surgeons performed a 7-hour surgery to remove the tumor in Sebastian's brain. It took him 37 days to recover at the hospital before going home to his family and twin brother. For one year, Sebastian received radiation and chemotherapy treatments and rehab therapy. During this time, Sebastian saw five specialists regularly to manage his care, including an oncologist, ophthalmologist, and speech, physical & occupational therapists. NCH, FL's care team, often referred to as his "second family," supported his parents in navigating all of Sebastian's appointments and health care needs.
Now 7, Sebastian is cancer-free and a happy big kid with a bright smile who loves "Star Wars" and playing with brother and his sisters. He no longer has to frequent NCH, FL, and only goes in for periodic check-ins with his physicians. His parents and physicians are all amazed at his recovery. He favorite song is still Queen's "We are the Champions," which is very fitting for our Nemours Children's champion!
David and Sebastian both have an important message to share with Congressional leaders. During their meetings, they will share their stories and the impact of having access to a children's hospital to address their health care needs. The meetings will also provide an opportunity to discuss the importance of investing in pediatric mental health and pediatric workforce training programs that support the pediatric workforce pipeline. The Nemours Children's National Office's federal policy team is honored to join David, Sebastian and their families as they advocate for all children across the country!
(*David's name has been changed to protect his privacy.)