Jade has always been passionate about dance and yoga. One of her favorite hobbies is practicing yoga with her aunt. When Jade was 11 years old, her aunt noticed that her left rib was bulging out during one of their yoga stretches. This realization, along with Jade's complaints of back and rib pain, raised concerns for her parents, especially since her mother was diagnosed with severe scoliosis at a young age. Based on her experience, Jade's mom knew she had to act quickly so she immediately scheduled an appointment with their pediatrician to get a back check. At age 11, Jade was diagnosed with scoliosis and recommended to Nemours Children's Health, Jacksonville.
Jade and her family met with Anna Rambo, MD, an orthopedic surgeon at Nemours Children's Health, Jacksonville. After their first appointment, they knew they made the right decision in choosing Nemours. They immediately loved everything about Dr. Rambo. She described the entire treatment process from the start and spoke directly to Jade, forming an instant connection. After discussing options, they decided to proceed with a spinal fusion surgery in the summer of 2022. The surgery is invasive and caused Jade's family a great deal of stress. However, Jade's mom was very grateful and relieved to have had both the Nemours app and consistent calls from their doctor to keep her updated on every stage of the surgery.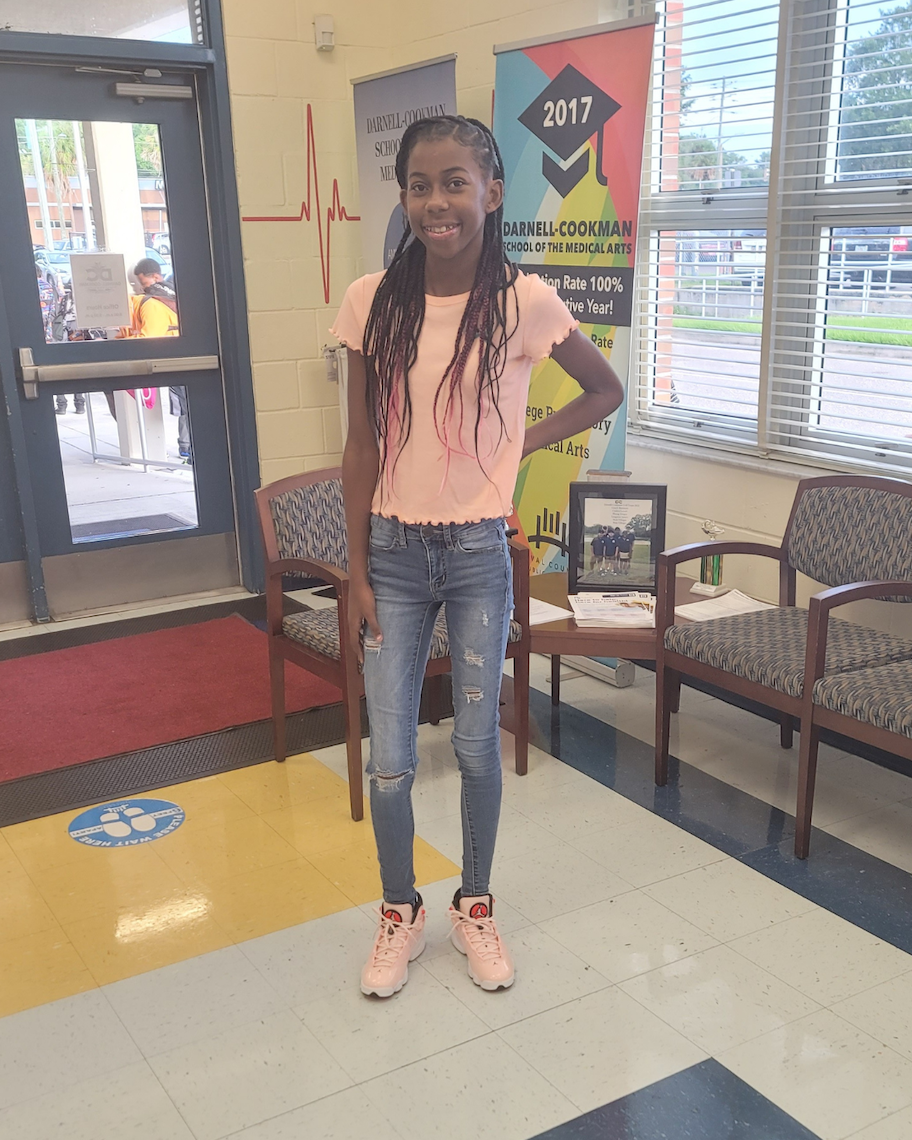 Jade's surgery was very successful. Dr. Rambo visited Jade every day and was by her side through the entirety of the recovery process. Jade is now fully recovered, and although she may not have 100% flexibility, she has resumed back to her normal activities of dancing, school, yoga, and so much more! Jade and Dr. Rambo have formed a very close relationship, so much so that Jade wishes she could see her more often than their occasional check-ups.
"Jade is one my favorite patients, and I always love to see her and her family in clinic," says Dr. Rambo. "She and her family were very wise in choosing the timing of her scoliosis surgery. I am grateful that Jade and her family put their trust in me to perform her scoliosis surgery. It is a privilege to treat patients like Jade."
Jade is an extremely strong, positive, and joyful young girl. She has conquered the challenges posed by scoliosis with unwavering determination. Her recovery was expected to keep her out of school for the entire first month. However, Jade worked extremely hard in physical therapy and was strong enough to return to school quickly, only missing the first week. Jade and her family have high hopes for the future and currently have no further treatments or surgeries planned, besides occasional check-ups to reassure improvements. Jade's mom explained that scoliosis can be a scary diagnosis and the process of surgery can seem intimidating. However, she recommends all families going through a similar experience to trust their doctor, act as soon as possible, get community, friends, and family involved, and be present to care for and prioritize your child. Despite her diagnosis, Jade continues to dance her heart out, live her life to the fullest, and make her family proud in everything she does!