After dating for ten years and recently married, Brandi and Brian Jones were ready to have children. They had always dreamed of having twins – hoping for a "one and done" pregnancy – although multiples were not part of their family history. Both knew it wouldn't be easy. Brandi had been diagnosed with polycystic ovarian syndrome (PCOS) which could make it challenging to get pregnant. Even with the diagnosis of PCOS, they prayed not only to get pregnant but to get pregnant with twins.
To assess her fertility, Brandi's OB suggested she get an ovulation test. No one was more surprised than Brandi herself when the test revealed her ovulation levels were off the charts. Her OB confirmed she was pregnant with one baby. The couple was elated that God had answered their prayers. They soon began regular visits with their OB. At a routine ultrasound, two weeks later, Brian and Brandi got another surprise; they were having twins!
Their OB advised them to see a maternal fetal medicine (MFM) specialist since Brandi's pregnancy was considered "high-risk" as she was having multiples and would be 35 years old or of advanced maternal age on the expected due date. Brandi researched a list of possible MFMs in the area and selected Claudia Taboada, DO.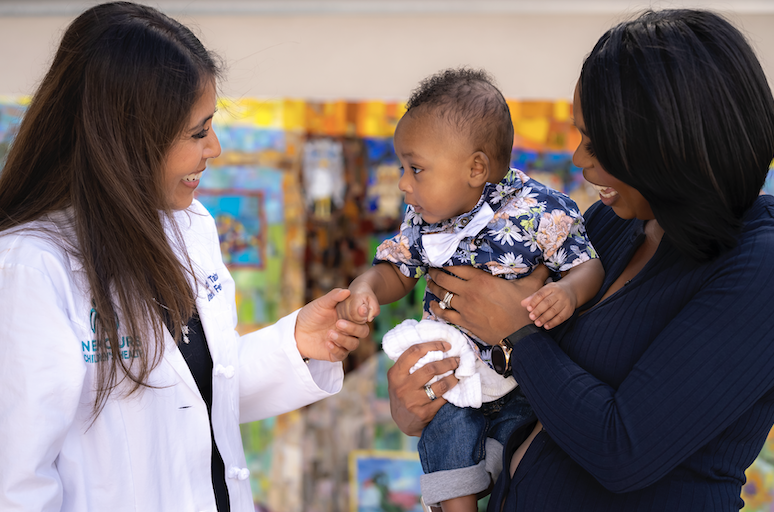 "From the first time we met Dr. Taboada, I knew we were in good hands. We immediately had a bond between us. We trusted her." Brandi's pregnancy continued to progress without incident.
But at 35 and half weeks, her blood pressure skyrocketed unexpectedly. They went to the emergency room and were encouraged by the OB physician to have a C-section to deliver the babies immediately. The Jones' were understandably shaken, anxious, and unsure what to do. This wasn't part of their plan. Just then, the phone rang. It was Dr. Taboada. As Brandi recalled, "she somehow knew that we needed to hear from her." Dr. Taboada listened to their concerns and reassured Brandi and Brian that having a C-section would be a good decision for mother and babies. "I really can't thank her enough. She will forever be a part of our family."
Braxton and Bailey were born four days after their mother's birthday and just 10 seconds apart. They are healthy, happy fraternal twins. Bailey is the talker, waking up every morning around 5:00am cooing in her crib while Braxton prefers to sleep in. The twins just turned 6 months old and are asserting their independence-turning over, scooting around and soon will be crawling.