Well, it happened.
After almost two years of the pandemic, COVID-19 has found its way into our house.
As an emergency room pediatrician turned medical writer and editor for Nemours KidsHealth, I thought I was as prepared as anyone can be. I read and write about COVID-19 every day. But even with all that experience I still learned more than I ever wanted to know in the last four weeks, which felt like four months.
As mom to two boys ages 10 and 6 years, I learned that having a child with COVID-19 is hard (and a little bit scary), but planning, patience and creativity can help you come out on the other side. Here is what I learned.
Don't Play the Blame Game
We spent the pandemic having a healthy respect for the virus. We followed all the guidelines. We didn't eat at restaurants, we had outdoors Thanksgiving and Christmas. Our kids learned remotely last year, and in-person this year with masks, with distancing and newly installed hospital-grade air filtration. We almost made it to the kids' vaccination date without infection.
But that all changed one day in late October when Oliver, our 10-year-old, had nausea and a positive test result after an exposure at school. A few moments of disbelief were quickly followed by one thought – how could this happen? We did everything right. Should we not have let him go to school? Maybe we should have put him in a different kind of mask. Were his teachers vaccinated?
But this second guessing wasn't helpful. The virus is so contagious and spreads so easily that even people who do all the right things can sometimes get infected. So I switched gears and did the first of many overnight checks. Most kids with COVID-19 have mild illness, but some can be quite sick.
Turn to Trusted Sources
The results showing infection arrived in my email at 11 p.m. What do we do when the boys wake up? My mind was racing and I couldn't remember anything I had learned so I turned to the CDC and our own KidsHealth article which helped me focus on action steps. The sick family member should isolate. That means they should sleep away from other people and pets in the home and have their own bathroom if possible. Unvaccinated family members need to stay home…OK, it's coming back to me now. But how do you "isolate" a 10-year-old?
Think Through Your Household and Have a Plan
We decided our "sick room" would be our master bedroom. It has windows on two walls for ventilation, high ceilings, extra space for visiting but keeping distance, a tv and its own bathroom. We added a HEPA filter because our ceiling fan was broken (thank you Amazon for same day delivery). We kept masks, hand sanitizer and Clorox™ wipes on a table outside the room.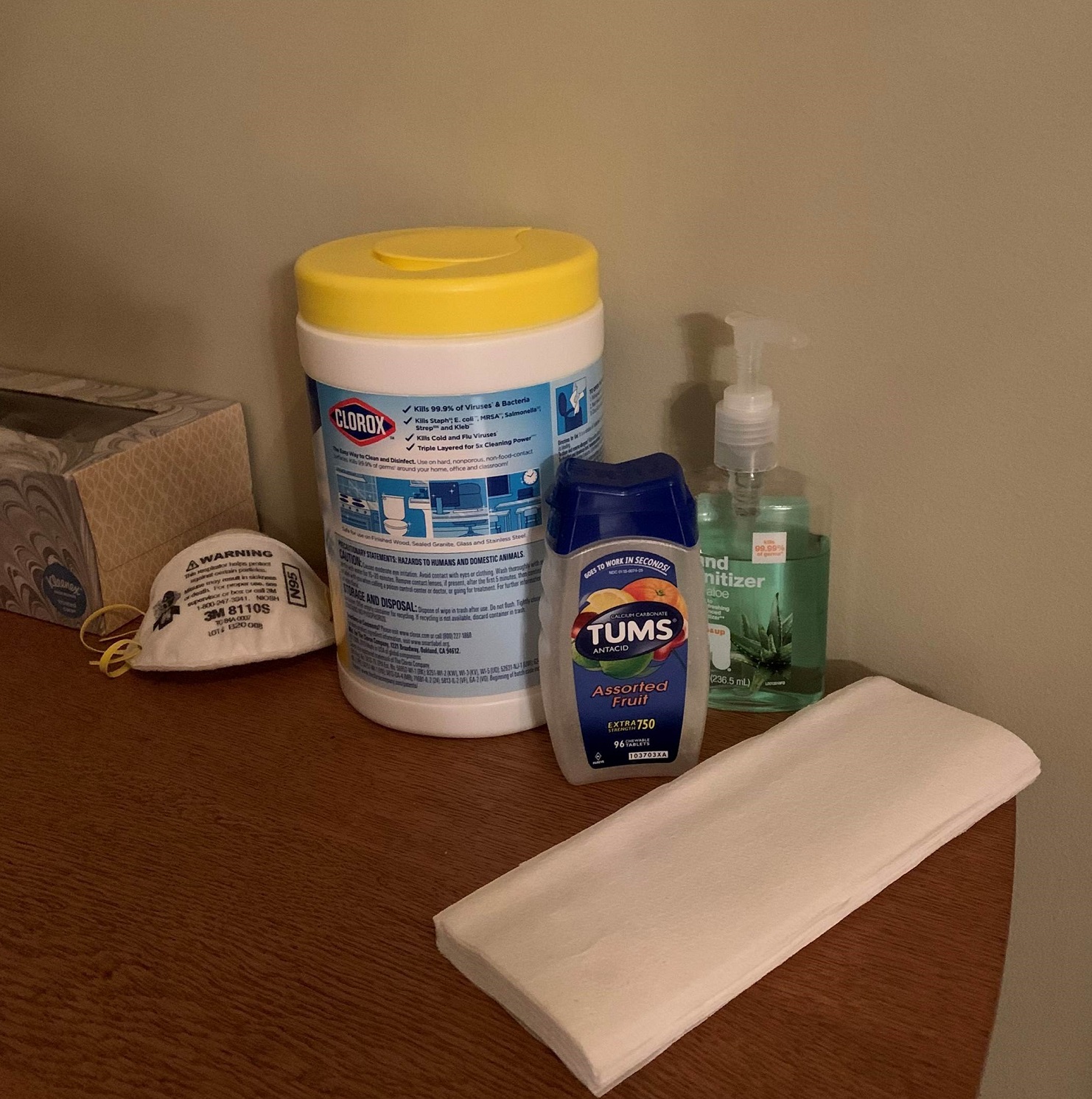 Oliver was well enough and old enough to be ok on his own. But we needed a communication plan to keep tabs on him and so he would not bust out of isolation every time he needed something. Luckily, he had been honing his FaceTime skills over the last 20 months, so he was in his element. We used iPads like walkie talkies to keep in touch all day. FaceTime and text messages kept him from feeling lonely and allowed him to request Pedialyte™ pops, crackers, or money for video games. A screened-in porch gave us all an opportunity to eat dinner together since outside activities pose much less risk of spreading the virus.
Get organized—Write things down
Preventing spread of the virus takes organizational superskills! I called the school nurse first thing in the morning to establish his contacts – she caught the best friend before he got on the bus. We learned Griffin, Oliver's brother, can get back to school earlier if we keep the boys apart. So isolating Oliver keeps his brother from getting sick and also starts the quarantine clock sooner. Finally, some good news. Just to be sure I don't eventually test positive and expose anyone, my husband and I decide to play man-to-man defense: Each adult responsible for one child.
So when will this be over? So many numbers I can't keep them straight….10 days isolation, 14 days quarantine, which can be shortened to 10 days without symptoms or 7 days with a negative test at 5 days. Confusing, right? I went "old school" and printed calendars to write it all down. That helped a lot. But was anyone else positive already? Timing and scheduling tests were big jobs.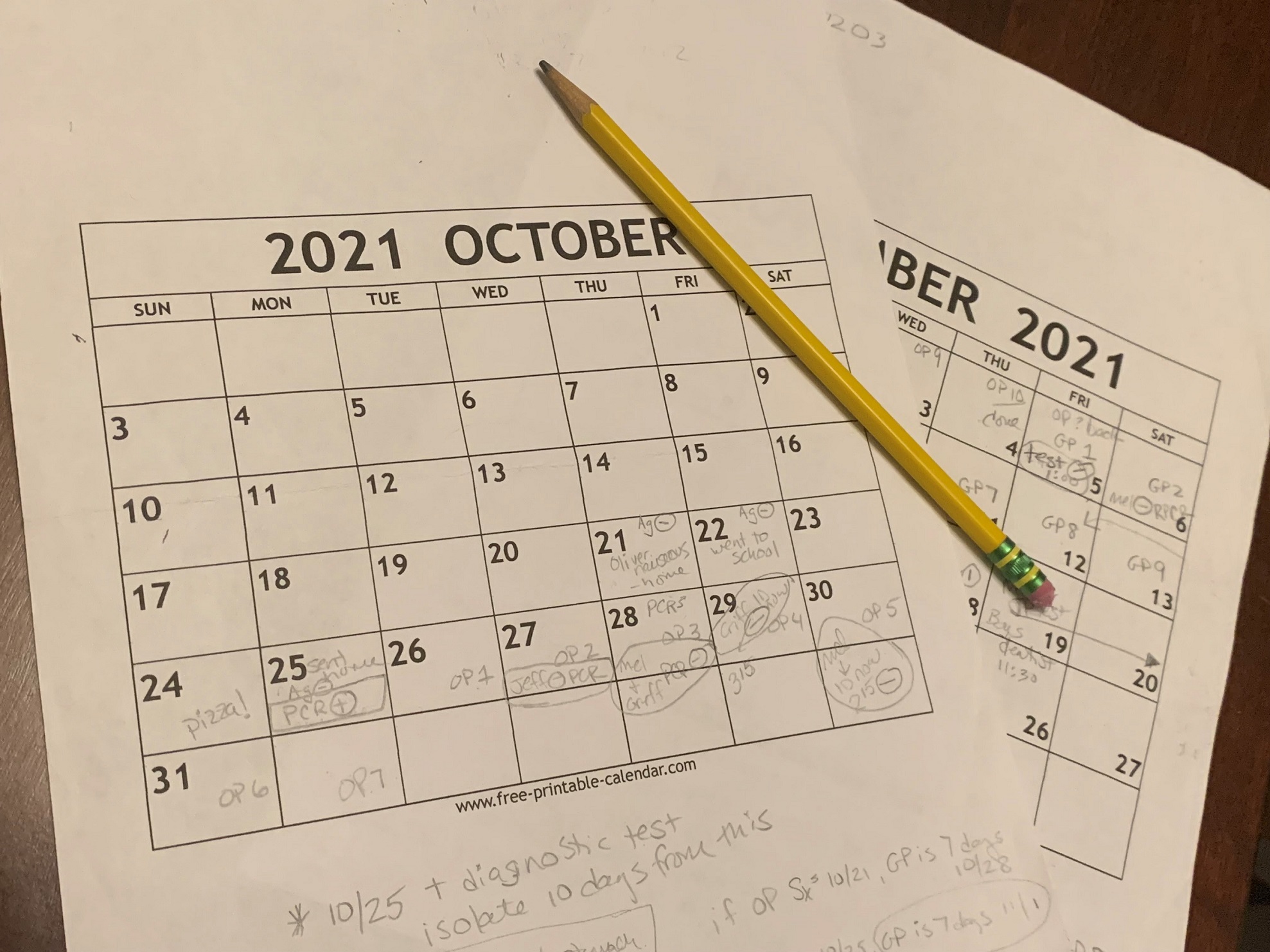 Know Your COVID-19 Tests
Planning tests and keeping quarantine and isolation took a lot of energy. I confess all my doctor/medical writer baggage may have caused me to go overboard on this one. But I was eager to find out if anyone else was positive as early as possible. We tested along the way instead of waiting until the very end of quarantine to test.
Antigen tests can tell you quickly if someone has enough virus to be contagious. The molecular tests, if positive, would confirm a diagnosis. The boys kind of wished for the little one to be positive too so they could both stay in the master bedroom together. Luckily that didn't happen.
Turn Lemons Into Lemonade
It took a few days for the boys to figure out they were going to miss Halloween with their friends and cousins. Thanks to some quick thinking and overnight deliveries, we were able to get some Halloween cheer going. We had a Halloween-themed bingo over FaceTime with the neighbor, a spooky bounce house including yard blow ups, a riddle-filled scavenger hunt for gathering treats spread around the yard and an outdoor family viewing of the Addams Family 2 on the porch. Halloween saved!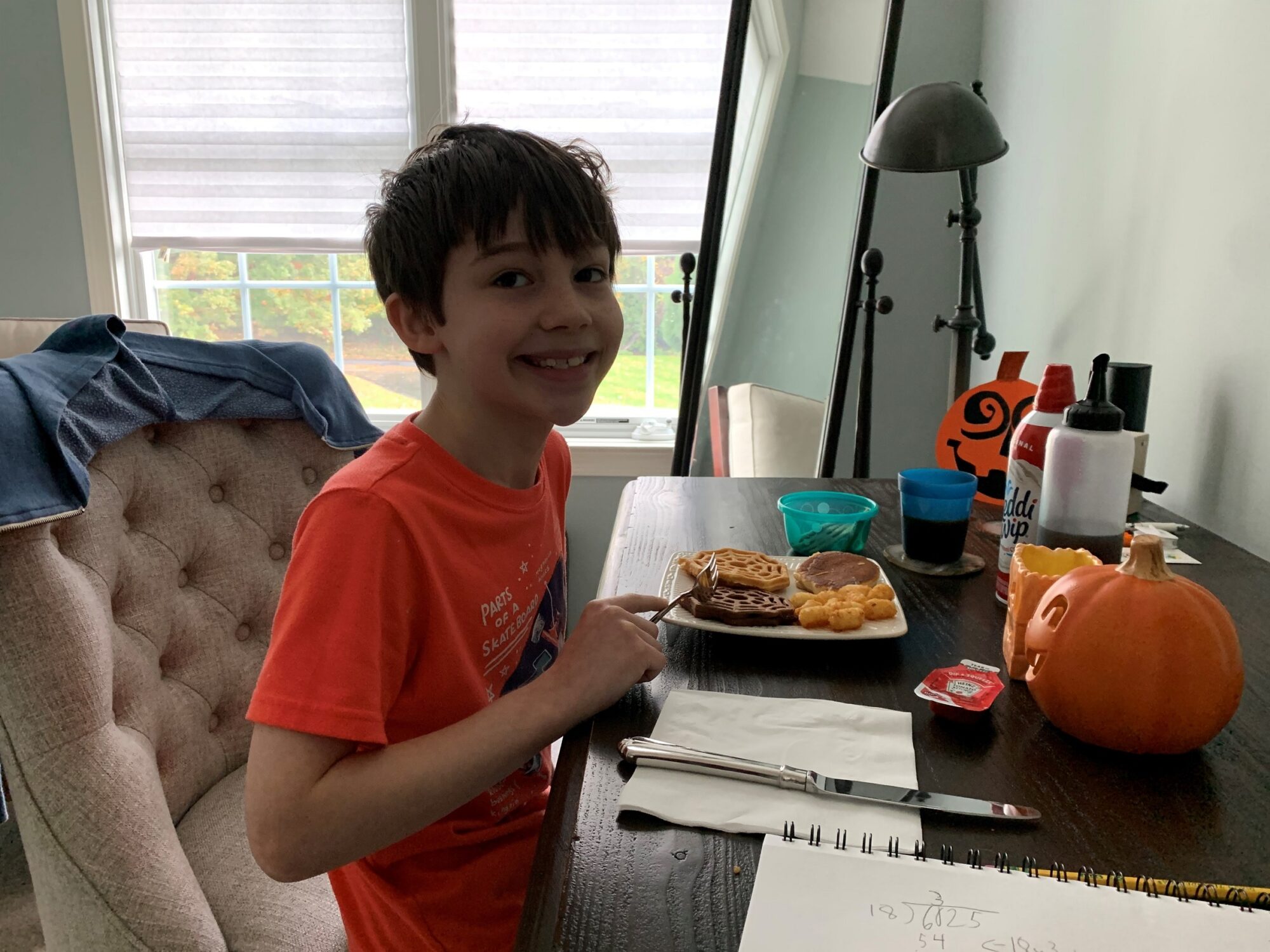 Be Vaccinated
Our vaccinated status gave us comfort. We were protected from the virus and therefore well enough to care for our boys. We were still able to go out and pick up necessities while wearing masks (as per CDC guidance for vaccinated people), otherwise we would have needed to quarantine too. And we knew if we became infected, we would very likely be ok.
The vaccine approval for kids came a little too late for us. But now that the vaccine is approved for kids age 5 and up, fewer families will have to go through what we did. Families can prevent both adults and kids from getting sick, isolated and quarantined. If you are vaccinated, great! If you are on the fence about getting the vaccine for yourself or your kids, talk to your doctor. Get your questions answered.
Counting Our Blessings
As hard as it was to have a child with COVID-19, we were fortunate. Not everyone is so lucky. We have a lot to be thankful for. My husband and I worked as a team, no one else got sick, including my mother who was staying with us when this all started. We are fortunate to be able to afford the rapid tests and other things that helped us along the way.
I am grateful Oliver's illness was mild. But he is not totally out of the woods with some lingering issues. It's been a month and we are still trying to get back into our routine. He has had trouble attending school due to persistent symptoms and a bunch of doctor appointments. Fingers crossed we get through to the boys' vaccines and – finally! – back to normal.