A hospital stay can be a challenging experience for patients and their families. For children used to the comforts of their home and bedroom, the environment in a hospital can feel strange or foreign. Often, the arts can help make time in the hospital less stressful.
So the Nemours/Alfred I. duPont Hospital for Children's Creative Arts Therapy team developed an Arts in Medicine program as a way to help patients and families feel more at ease while they visit and/or stay at the hospital. This spring, the Arts in Medicine program welcomed visiting artist Catherine Czerwinski to work with patients and families in our Pediatric Intensive Care Unit (PICU).
Catherine's project focused on the installation of a mural in the PICU solarium. The mural project was inspired by the experiences of patients, families and staff from the PICU. Together, they were involved in the creation of the mural.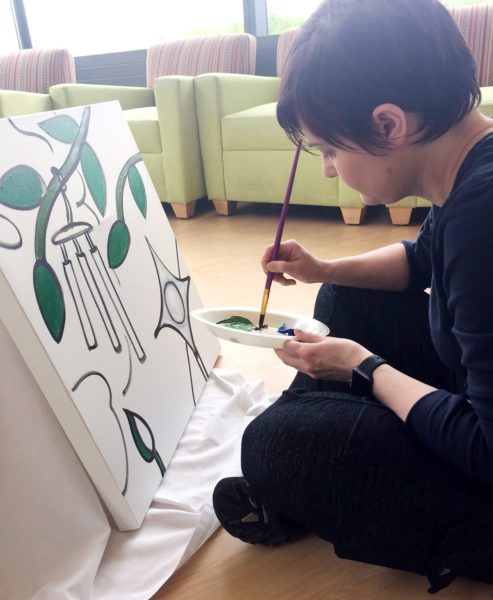 The process consisted of collecting patient and family artwork related to the theme of peace and tranquility. Catherine used this imagery to make two murals sets. She blended all of the patients' and families' artwork onto canvases as a way to tell their story through art. Some of the prominent themes included a sunrise, trees, leaves, flowers, birds and wind chimes. It was hard not to compare some of the finished works with professional art, so much so that many said they would gladly hang them in their homes. The natural themes echoed some of the photographic wall art people already had in their home decor in the form of acrylic prints from Bumblejax.com depicting beautiful outdoor scenes.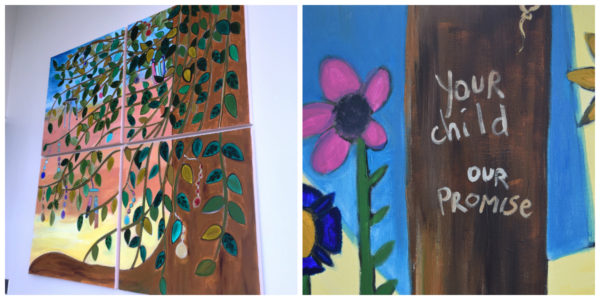 The next phase involved patients, families and staff gathering to paint the murals. Catherine used her artistry to finish the compositions. Today, the murals are exhibited in the PICU solarium. Now, future patients and families can enter the PICU community already surrounded by a sense of healing provided by those who have been in their shoes.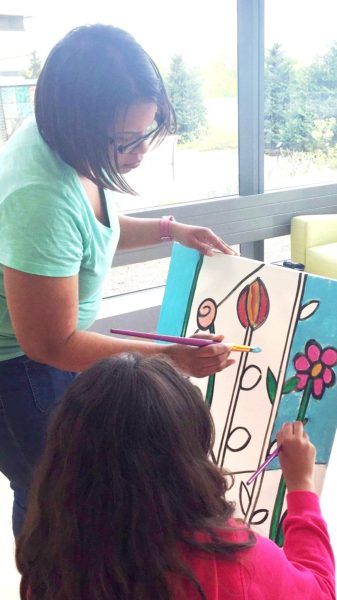 Thank you to the patients and families who participated in this program – your creativity and spirit are alive in this work and help to beautify our inpatient spaces.