This spring, in partnership with the University of Delaware, Nemours hosted Artist-in-Residence Frank Waln, an award-winning Native American hip-hop artist from the Rosebud Reservation in South Dakota. Frank joined Nemours in our Creative Arts Therapy program at Nemours/Alfred I. duPont Hospital for Children, where he has been able to share his story with our patients and families. Frank met with groups of patients while here and spoke about growing up as a Native American, being raised by a loving single mother, and the ways hip-hop music offers him healing during difficult times. One of his goals while here was to work with our patients to create a one-of-a-kind musical work that tells their story about being in the hospital.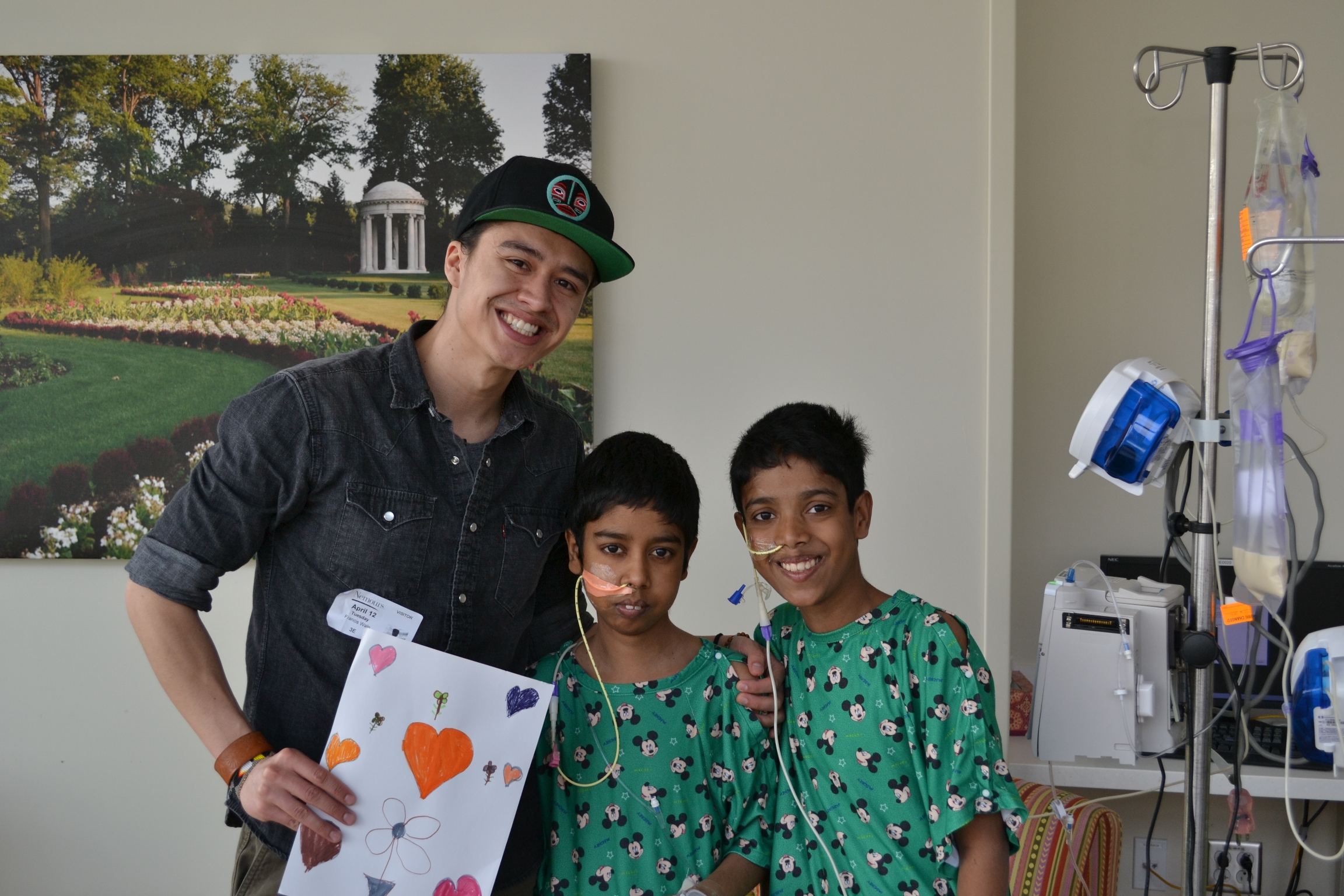 With a degree in audio engineering and his experience as a performer, Frank was able to show kids how to create hip-hop music. Frank taught them how to build a song by recording beats, creating a melody and writing lyrics. Sample lyrics went like this: "There was a pink unicorn. Brittney was her name. She was really smart. So she had a big brain."
As the original song began to come to life, Frank encouraged kids to think about "what love looks like." In one exercise, patients and their siblings shared their stories while they created drawings. Their pictures showed that love helps them cope, be strong and heal.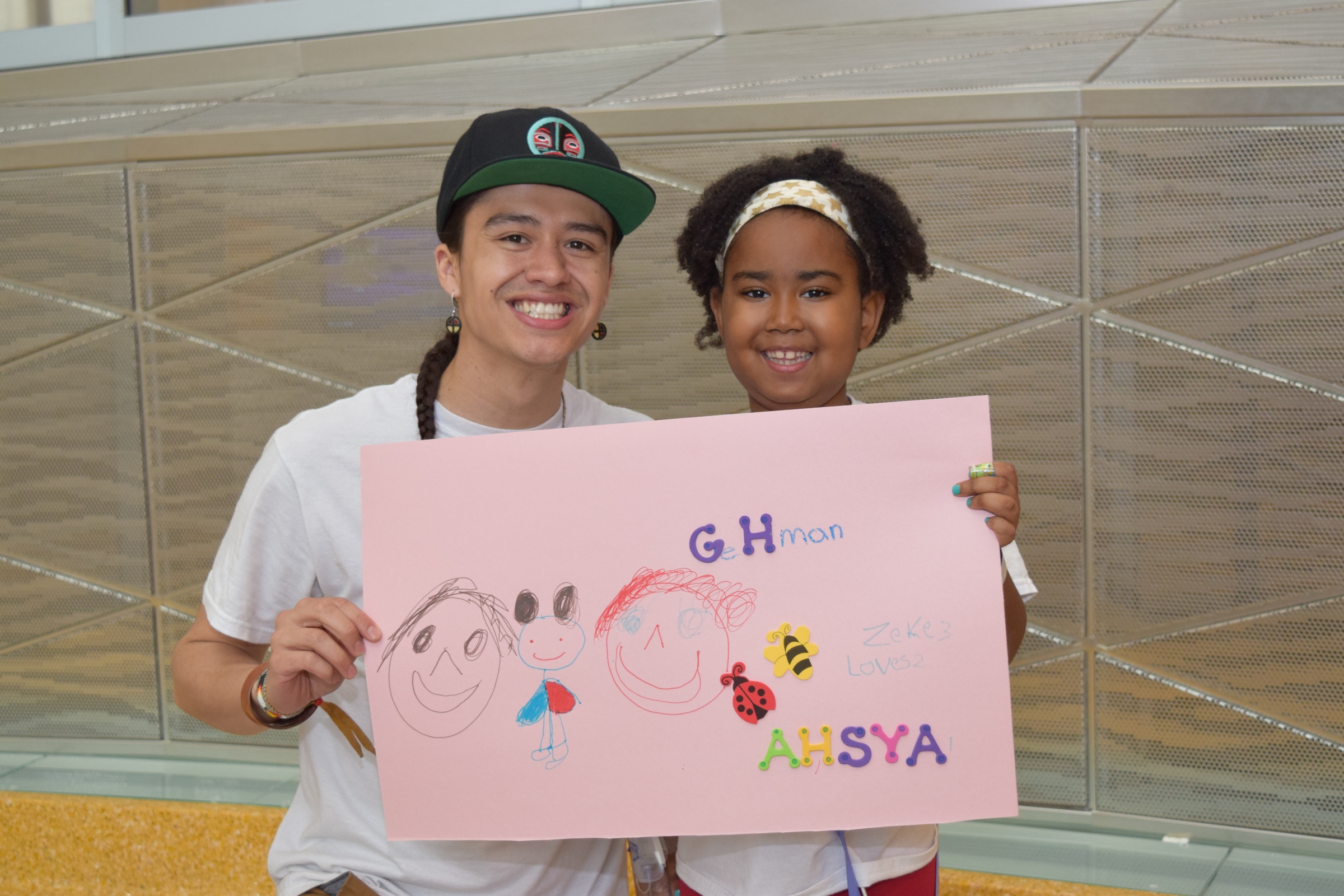 Frank also met with patients in their room to invite them to record vocals for their original song. Emily (pictured below) created an original tune and lyric for the song: "Be brave, stay strong, keep smiling, and love long."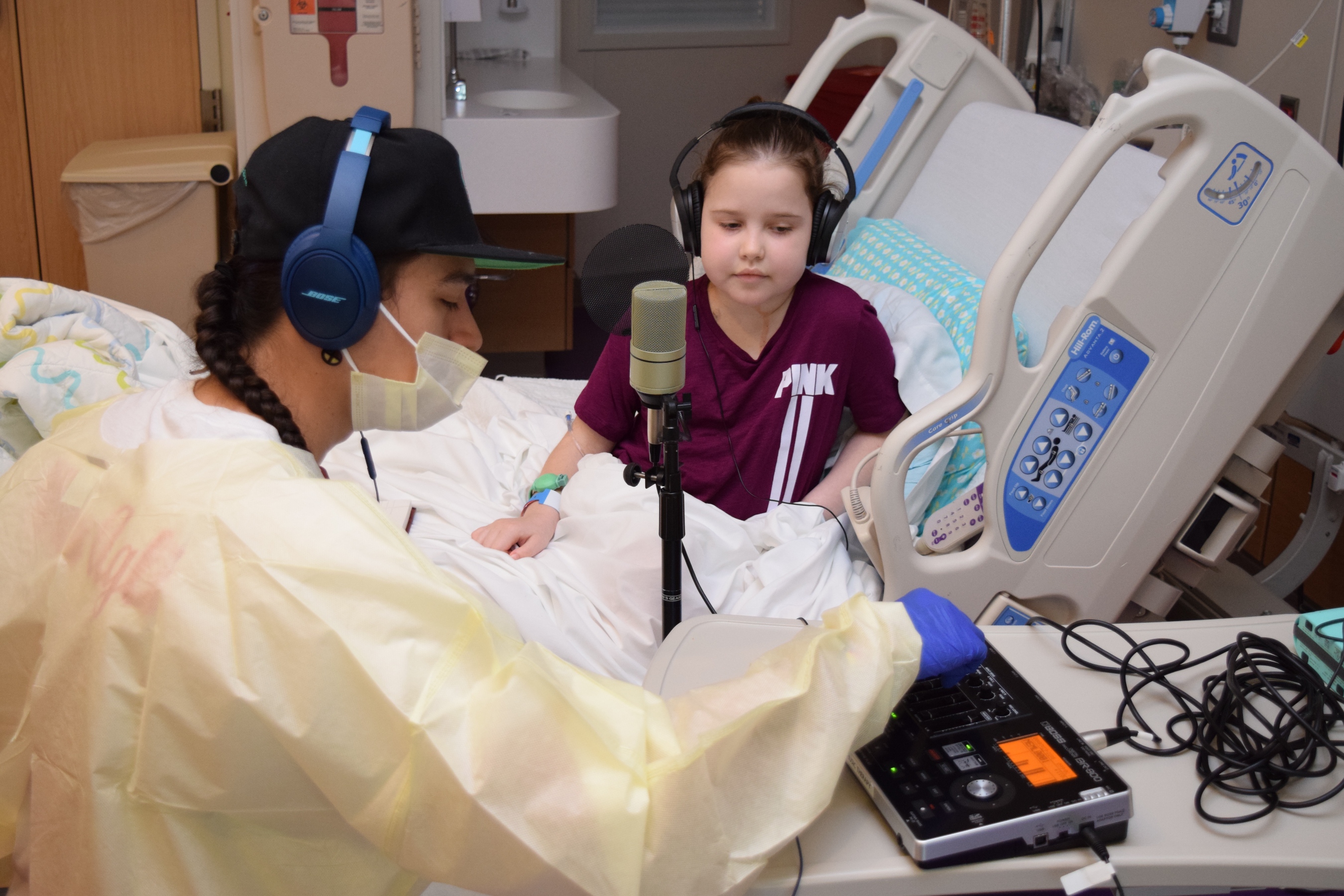 On the final day of recording, Frank met another patient, Lisa, who loves to sing and rap in Spanish. After hearing Emily's chorus, Lisa created this rap in Spanish: "Be strong, smile and live life. For everything that starts will also have an end." Hearing this made Frank wonder what love sounded like in other patients' native languages. Frank was able to meet patients who could sing in Bengali, Ashanti and Portuguese, which you can hear in the song. Frank even shares his word for love in Lakota, "iyótaŋič'íla."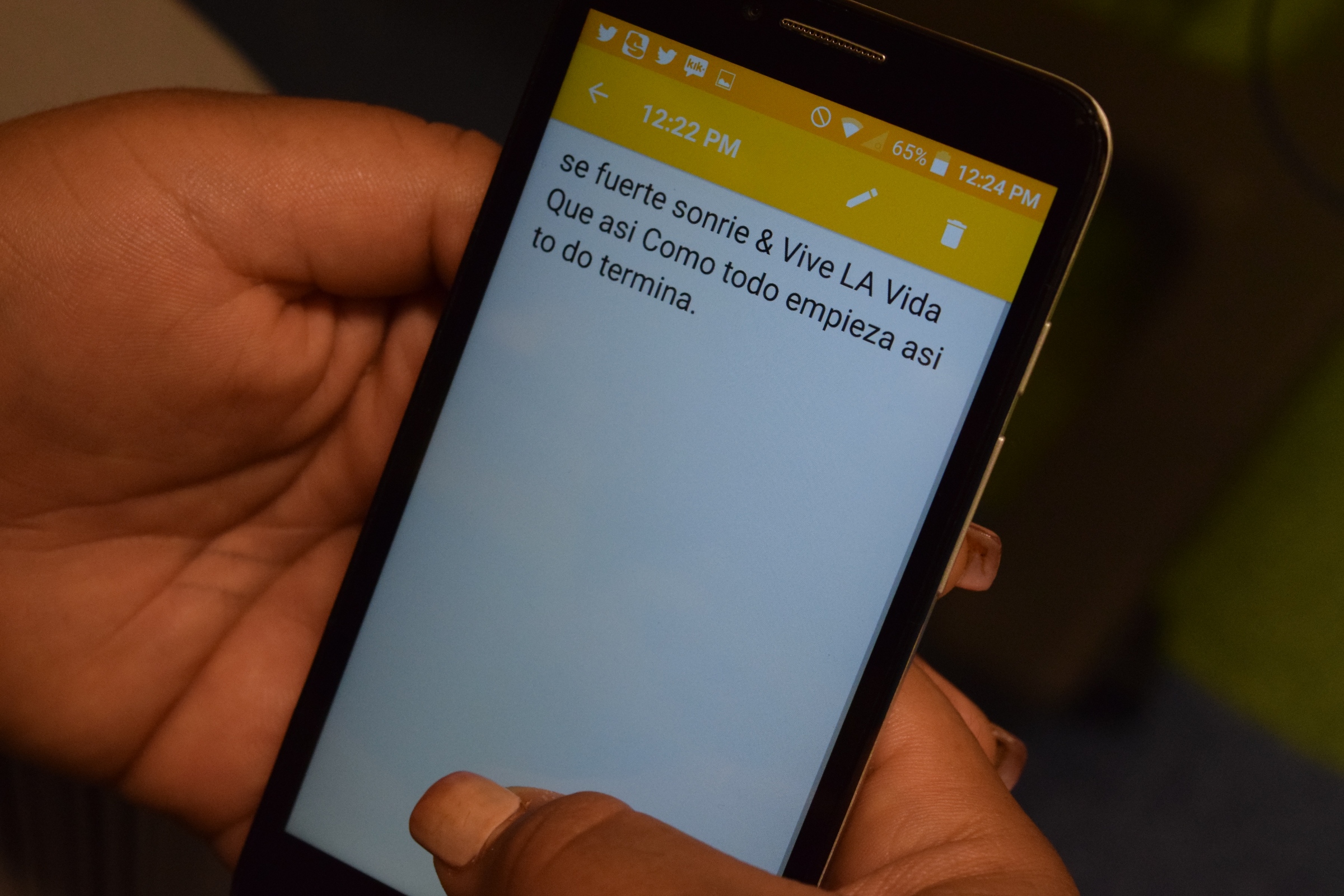 On Wednesday, May 18th we held a premiere party to debut the original song "Love Helps Me Heal." Kids who were involved in creating, writing and singing the song were given the VIP treatment and were so excited to see the video on our projection screen playing in the hospital's beautiful Anthony N. Fusco, Sr. Atrium.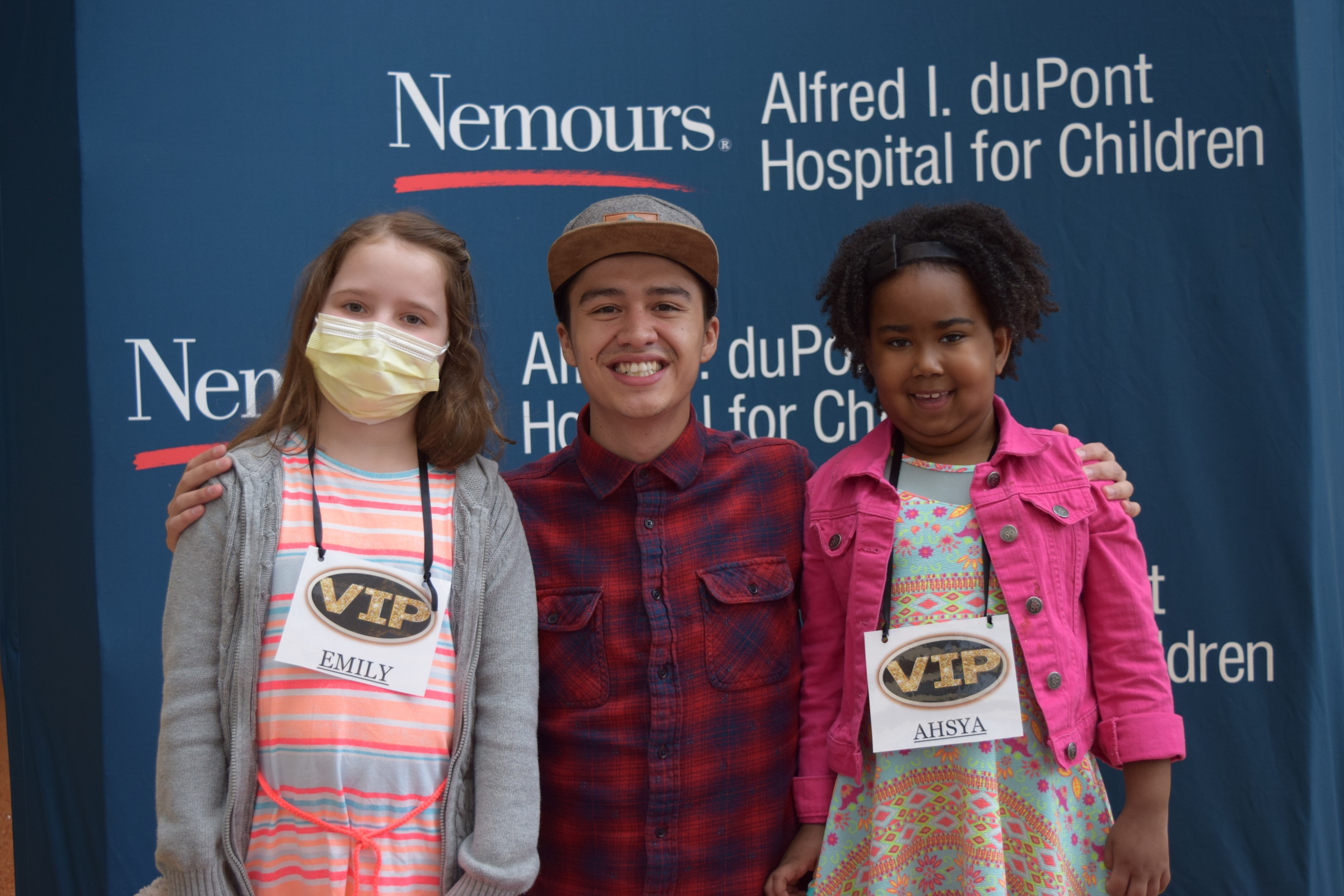 Thank you, Frank, for sharing your talents, and giving our kiddos an experience they will never forget! Together, we all learned that even though our languages sound different, the power of love is universal. The power of love helps us heal. Below is the final video. We hope you will view it and then share. Together we can spread the message that "Love Helps Me Heal."