In the early stages of her pregnancy, an ultrasound revealed a life-altering condition in the precious life growing within Gabriella's womb. Gastroschisis, a birth defect in which the baby's intestines extend outside of the abdomen through a hole next to the belly button. After a referral to Nemours Children's Hospital, Delaware, Gabriella's hope was restored. The compassionate Nemours Children's Advanced Delivery team, led by Dr. Margaret Chou and Diane Fitzgerald, offered solace and reassurance. Gabriella also met with Dr. Loren Berman, a Nemours Children's general surgeon, prenatally to discuss her baby's condition and what would be done to care for him after birth. Their words filled with genuine empathy, alleviated her fears, and provided her with the much-needed comfort that they would be there to care for her son Rhavi when he entered the world.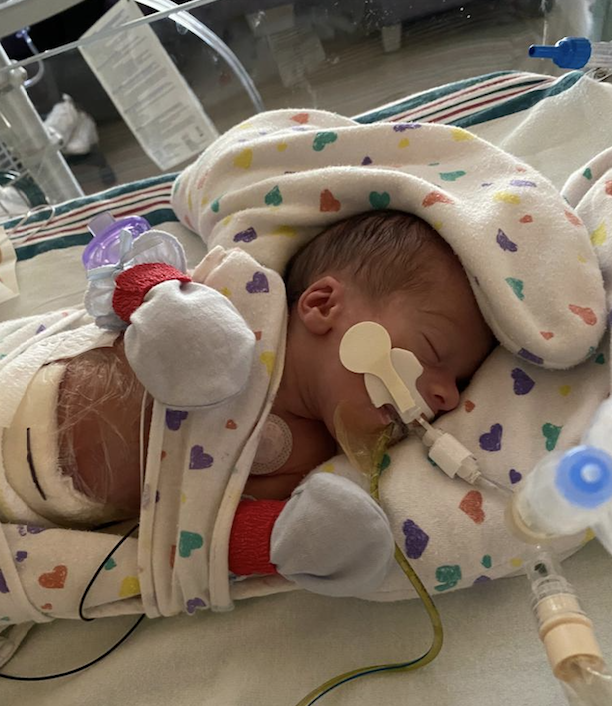 With a newfound resolve, Gabriella made the courageous decision to put her career on hold, dedicating her time and energy to her well-being and that of her unborn child. Each passing day brought a combination of worry and hope, but the unwavering presence and support of Dr. Chou and the entire Nemours team bolstered her strength and resolve.
As the months unfolded, she marveled at the miracle growing within her. She embraced the uncertainties of her journey, finding resilience in her determination to face the challenges head-on.
Entering the hospital, she carried within her a blend of prayers and hope, knowing that the future of her son lay in the capable hands of Dr. Chou, Dr. Berman, and the Advanced Delivery team. With their expertise and dedication, what could have been a moment of immense fear transformed into a seamless and perfect birthing process. After birth, surgery day arrived and Dr. Berman, performed a sutureless closure to correct Rhavi's gastroschisis.
In the days that followed, the Nemours team continued to be a beacon of light in her life. Dr. Chou and her team extended their touch beyond her son's treatment, taking into consideration her well-being during the crucial postpartum period. Their attentive care and genuine concern made an indelible impact, providing her with the strength and reassurance she needed during those early days.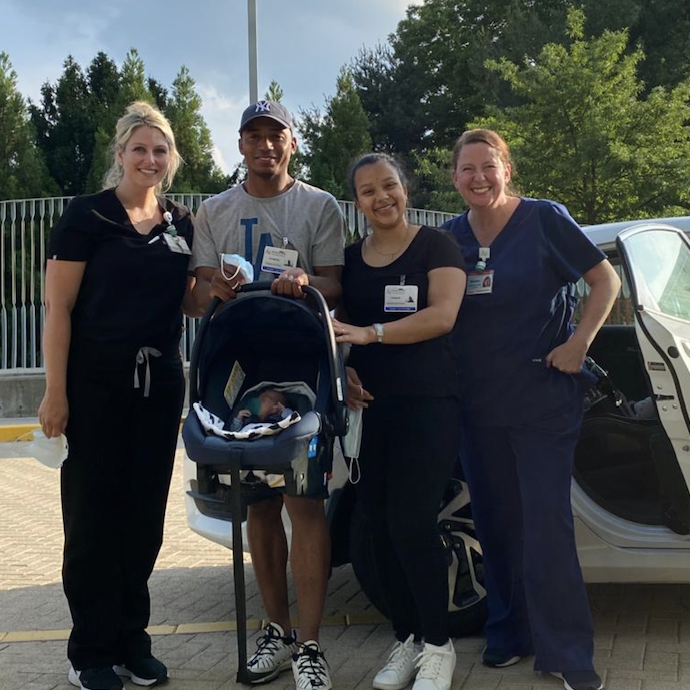 As time went on, Rhavi flourished, a testament to his strength and the incredible care he received. His infectious laughter and radiant smile concealed the battles he had fought in his early days, leaving those around him oblivious to the hurdles he had overcome. The worries that once plagued her heart gradually faded, replaced by an overwhelming sense of gratitude for the extraordinary Nemours Children's team who had become an extended family.
To those who find themselves on a similar path, Gabriella wants you to know, "Do not despair. Trust in the exceptional individuals who will care for you and your child, just as Dr. Chou and the Nemours Children's team did for me. Surrender your worries and fears, knowing that you are in the hands of medical professionals guided by expertise and fueled by a genuine commitment to your well-being. With unwavering faith and unwavering resilience, everything will fall into place, guided by a power greater than us."