For nine months we were prepared for the worst. They told us our baby may not be compatible with life outside the womb. On April 16, 2014, we walked the long fluorescent-lit halls of our local Charlotte, NC, hospital praying we'd leave through them with our son in our arms. They told us we wouldn't hear him cry and that he would need instant medical attention. At 3:06 a.m. on April 17, Jude Sullivan Peters was born and out came his loud and fierce battle cry. From that very second, we knew he was a fighter. We met our greatest hero that day. Throughout our pregnancy, we knew Jude would have a severe form of skeletal dysplasia, but we didn't know what type. When Jude was only two days old, we heard the four letters that would change our life forever: RCDP. The medical staff explained that Rhizomelic Chondrodysplasia Punctata was a terminal form of skeletal dysplasia. Jude was sent home on hospice care and morphine and they told us we would only have a couple weeks with him.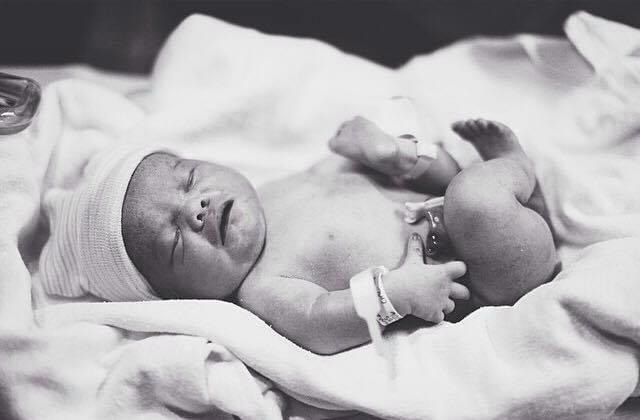 Jude decided to write his own story and we learned to how to fight for him! After posting on several dwarfism awareness pages through social media, we learned about Nemours/Alfred I. duPont Hospital for Children, and many families told us to take him to Dr. Bober, Dr. Mackenzie and Dr. Campbell. We instantly made the call and got Jude to Nemours as soon as possible.
We found hope at Nemours. This is where we learned how to fight. The doctors at Nemours explained the realities of this difficult diagnosis, but they did it in a way that was also filled with hope. They told us that Jude would write his own story. They taught us how to fight for him, care for him and advocate for him. We drive from Charlotte to Wilmington, Delaware for Jude to receive his medical care at Nemours with the incredible team there.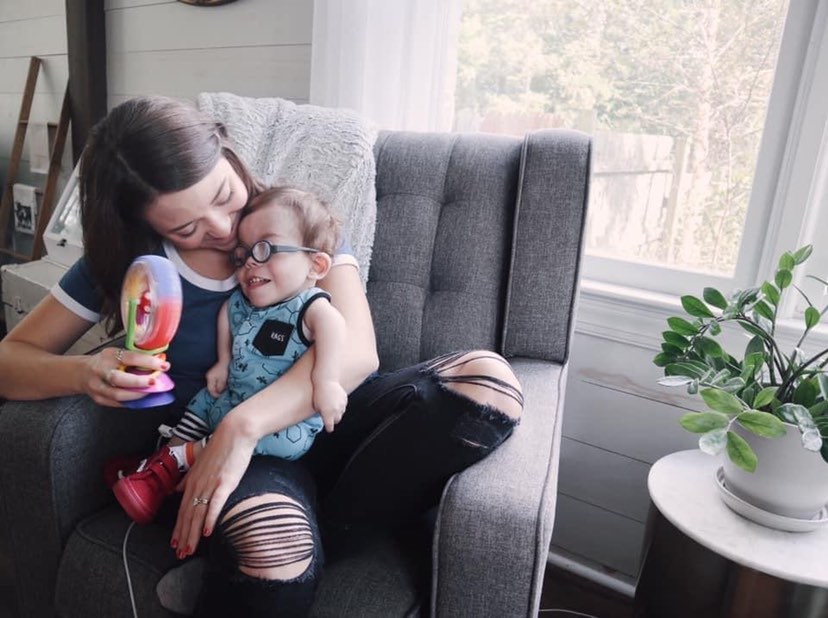 Being the parent of an RCDP child is not always easy. You wish a million times that you could take their place, and you grieve that you can't always fix it for them. Our children face many uphill medical challenges. Rather than play dates, their weeks are filled with therapy and doctors' appointments. Milestones for us look a lot different, but they are not any less important. Every little milestone is a huge victory and we've learned to celebrate them all.
RCDP is rare and affects less than 100 children worldwide. Before we had Jude, we didn't even know what RCDP was. We had no idea that when they told us "your baby has dwarfism," that it would mean he wouldn't be able to speak, walk, eat, run, ride a bike, make messes, and do all the things you picture when you find out you're going to be a parent.
Suddenly we came face to face with RCDP, and every single day from the minute we wake up, it's the battle we fight. While RCDP may take away the ability for our son to talk to us, walk, or wrap his precious arms around our necks, it does not, and will not, take away all the joy we have experienced every single day. It can't take away all the love. It can't take away his sweet, happy, and wise spirit.
Although it has taken away the ability for him to form words, every single day when he uses his own special way to communicate to us, he is defeating it. He lets us know how much he loves us with his big brown sparkly eyes, his infectious smile, the way he rams his little head into us (which is his way of hugging), and the sweet noises he makes. He lets us know when he's hungry, tired or wants to be put down. He is smart enough to find his ways to communicate with us. We just have to be patient, study, and listen and it is our greatest honor. Knowing him is pure joy.
While RCDP has taken many things from us as a family, it has also given so much. It has brought us an extended Rhizo community, a greater understanding of how precious life is, and friends who are some of the most beautiful warriors I have ever known! We have had to say goodbye to many precious Rhizo angels and it never get easier. But we are better to have known them and loved them! And they are always in our hearts and forever a part of our lives, our beautiful Rhizo angels.
On RCDP Awareness Day I am here to say: RCDP, you can not take our joy, our love, our hope, and our strength. We will continue to fight, to raise awareness, to stick together, to love, and to live in joy and HOPE even amongst the pain.
Dear New Rhizo Parents
I know your days are filled with many unknowns and fear. I know this diagnosis is hard to wrap your mind around. I know you are spending countless hours and sleepless nights researching in tears and frantically searching for any bit of hope you can find. I know you are scared of today, tomorrow, and every day following. The future can feel so uncertain and that can be terrifying.
Coming from another Rhizo mama who has stood in those same shoes, I can promise you that while there may be fear, uncertainty, challenges, countless medical battles to face, and pain, there is so much JOY, love, and hope. Rhizo kids are warriors! Although their fight may not be easy, they are strong.
Celebrate all the milestones! Jude just turned 6 years old! He loves music, lights, balloons, and his family, but his favorite thing ever is for us to dance with him. He loves to dance! No matter the circumstance, every single day, we dance. Our local hospital team does dance parties for him when he's there. We always strive to fill his days with lots of dancing and joy.
Dear Jude
To my beautiful son Jude, my sweet baby boy! You are a warrior! You fight harder than I ever could. You never let your limitations in your fragile little body limit the joy in your spirit and the love in your heart. Being your mommy is my greatest privilege. Being loved by you is a dream come true. I will always fight for you, protect you, hold you and love you. You are my best friend! I will never stop being your voice and working as hard as I can to raise awareness for RCDP. This year, you turned 6 years old and continue to defy the odds and I couldn't be prouder to be a Rhizo mama. HOPE for RCDP!
Hannah Peters is Jude's loving mother who spends her days doting on him and raising awareness for RCDP. Their family, based in Charlotte, NC, is one of over 20 families who are currently finding hope for RCDP at Nemours. Learn more about the Nemours Skeletal Dysplasia team at Nemours.org.